​French terror attack suspect denies Islamist motivation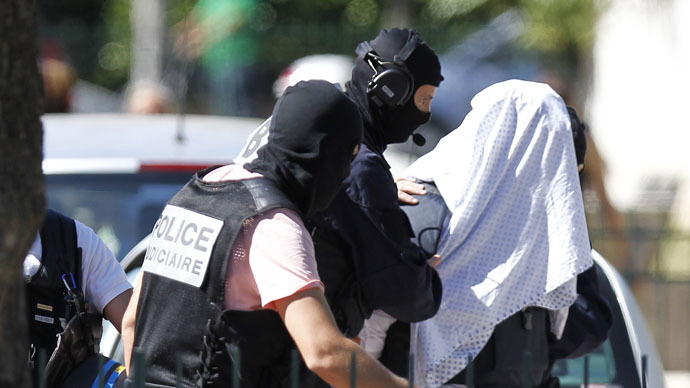 A man under investigation for allegedly beheading his boss and trying to blow up a gas factory in France claimed that his actions were not religiously motivated, a source close to the investigation told Reuters.
Yassin Salhi, 35, told the police he was not a jihadist and committed the attack the day after a spat with his wife, and several days after a quarrel with his boss, Herve Cornara.
Salhi tried to blow up the "Air Products" gas factory in the town of Saint-Quentin-Fallavier near Lyon. He entered the facility using his duty pass. Police later found the beheaded body of Salhi's boss on the factory premises.
They also found two black flags with Arabic lettering resembling those of Islamic State [IS, formerly ISIS/ISIL].
READ MORE: Man beheaded, several injured in Islamist attack on French gas factory
Investigators ascertained that Salhi had taken a selfie with the victim's head, which he later sent via the popular "WhatsApp" messenger to a number of a French citizens last traced in Raqqa, an IS stronghold in Syria.
READ MORE: France terrorist attack suspect took selfie with beheading victim
Moreover, French police said that Salhi shouted "Allahou Akbar" (God is great) during his detention.
French Prime Minister Manuel Valls spoke about the necessity of combating Islamic extremism after the incident.
"We cannot lose this war, because it is essentially a war of civilization," he told radio Europe 1. "It is our society, our civilization and our values that we must defend," he added.
Neighbors described Salhi as a calm and non-religious man who lived in a Lyon suburb with his wife and three children, aged from six to nine. French police, however, said he had come to their attention earlier because of suspected links with Islamists.
READ MORE: France terror attack suspect 'admits guilt'
Salhi's sister and wife were also arrested after the incident, but were later released after police interrogations.
The attack at the gas factory occurred six months after France was shaken by the Charlie Hebdo massacre and a deadly attack on a kosher supermarket in Paris.