France terror attack suspect 'admits guilt'
Published time: 28 Jun, 2015 15:42
Edited time: 28 Jun, 2015 15:43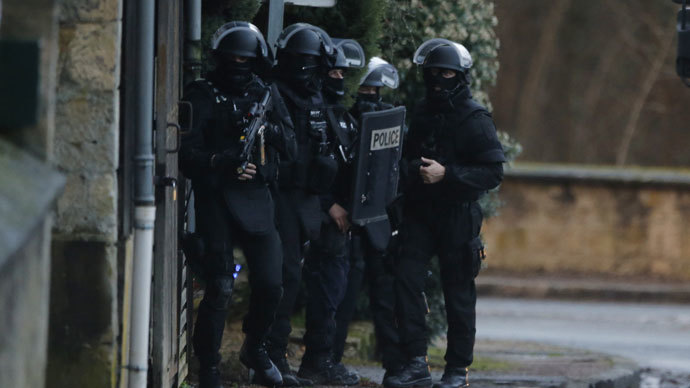 Saying almost nothing when first arrested, Yassin Salhi, suspected of beheading his boss at a French gas factory, has confessed to his crime, sources close to the investigation said. He will now be transferred to a Paris facility.
The main suspect told detectives he had killed Herve Cornara in a parking area before arriving at the plant in Saint Quentin-Fallavier, before he attempted to cause an explosion, a source told Reuters.
#ALire "@LaCroixCom: Portrait de Hervé Cornara, victime de l'attentat en Isère http://t.co/0NNEoL31Eypic.twitter.com/7Ds0vW34Kc"

— Duprat Annie (@DupratA) June 28, 2015
Salhi, 35, will now be transferred to Paris to be questioned further, AFP reports. His detention there could last up to 96 hours before further action is taken.
It transpired earlier that the suspect also took a selfie with his victim's severed head, before it was found dangling from a fence at the factory grounds. Additionally, the MMS was sent to a Canadian number whose owner the investigation is currently trying to determine, with help from the Canadians. The sender could also have reportedly been in Syria, which is being investigated at present.
Salhi's wife, sister and four others were earlier detained, but one of the group has since been released.
READ MORE: France terrorist attack suspect took selfie with beheading victim
During questioning, Salhi mentioned having an argument with his wife. She and his sister are still in custody.
He also mentioned having an argument with his boss. One colleague told the i-Tele website that the two had had an argument a few days prior to the killing, when Salhi dropped a fragile piece of equipment.
The suspect's testimony is currently being verified, but an autopsy has not been able to determine whether it was consistent with the cause of death.
French Prime Minister Manuel Valls has dedicated every available resource in the police and domestic intelligence to the task of combatting Islamic extremism.
"We cannot lose this war, because it is essentially a war of civilization," he said in an interview broadcast over radio Europe 1. "It is our society, our civilization and our values that we must defend."