S. Korea MERS outbreak kills 32nd victim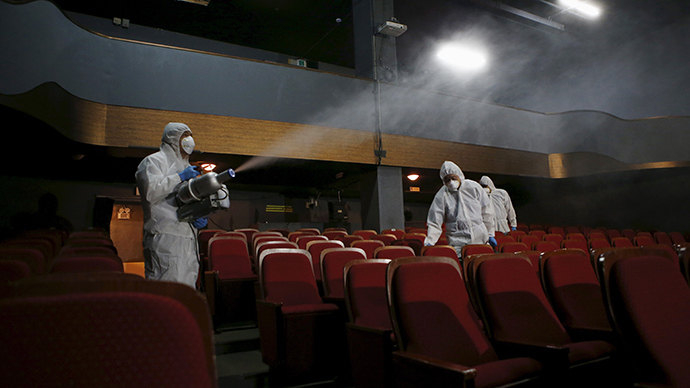 The death toll from the Middle East Respiratory Disease outbreak in South Korea has risen to 32 people, with latest 55-year-old victim being one of few patients who dies from MERS without having any additional health conditions.
The Health Ministry withheld the identity of the latest victim who died Saturday night due to privacy reasons, but said the man was diagnosed at the Samsung Medical Centre in Seoul on June 9 after contracting the virus.
The ministry noted this death was a rare case as most fatalities happen among elderly people suffering from further health complaints alongside the disease. Twenty nine MERS victims, or some 90 percent, involved people with existing conditions, sometimes as severe as diabetes or cancer.
The number of officially confirmed infections stands at 182 patients, the ministry reported.
READ MORE: S. Korea pledges $45.2 mln to fight MERS as death toll reaches 19
The overall fatality rate in the Korea MERS outbreak now stands at 17.6 percent, less than half of the 40 percent toll globally.
From 182 people who contracted MERS, 91 have been discharged from the hospital following a full recovery with 59 still remaining hospitalized. Out of those, 15 are in unstable conditions, the ministry said.
Since the outbreak of virus in South Korea was first confirmed on May 20, more than 15,500 have undergone isolation and incubation periods for possible infection. As of Sunday, 2,562 people still remained in isolation.
The virus was first identified in humans in 2012 in Saudi Arabia and by February 2015 the death toll had reached 385. MERS comes from the same family of viruses as SARS. Although it is more deadly, it is not as contagious, but there is currently no cure or vaccine.
South Korea has been successful in localizing the spread of the decease with 90 hospitals serving as the main source of infection. The only two contractions confirmed to have happened outside health institutions involved an ambulance driver and a paramedic who came into contact with MERS patients.
You can share this story on social media: