Porsche torn apart in central Moscow deadly crash (VIDEO)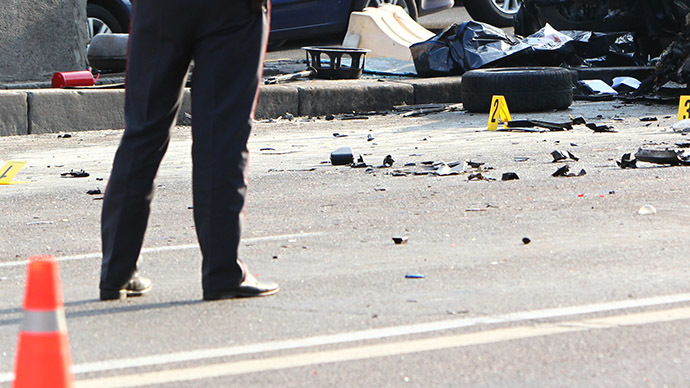 A Porsche 911 Turbo S sports car was torn in two and turned into scrap metal in a matter of seconds in the center of Moscow on Saturday. Two young men died in the crash after the driver lost control of the luxurious vehicle on a wet road.
The horrifying crash happened around 7:20am in central Moscow. There is usually little traffic on the roads at this time of the day on weekends. On Saturday, it had been raining all night and through the morning and the roads were extremely slippery.
According to preliminary reports, experts say the sports car speed was over 150 km per hour (over 93mph), Lifenews reported. The speed limit there is 60km/h (37mph).
«Порше-911», разбившийся в центре Москвы, несся на скорости более 150 км/ч http://t.co/TXp2ScYUtnpic.twitter.com/XZquF3cWQV

— LIFENEWS (@lifenews_ru) June 27, 2015
Traffic control cameras captured the Porshe speeding on the street seconds before the crash. The moment of the road accident was also filmed, with the car crashing into a lamppost on a sidewalk on Bolshaya Yakimanka Street, whereupon it was immediately torn into two halves.
The bodies of the driver and the passenger were found on the road some meters from the wreckage. They died instantly, police said. It was later reported the driver was the son of a late Russian politician.
В разлетевшемся на две части Порше погиб единственный сын главы Ассоциации игорного бизнеса pic.twitter.com/Hq9QoJwiK9

— Новости Ульяновска (@bzfrmt_uln) June 27, 2015
The Porsche was driven by 23-year old Igor Esipovsky, the son of a Russian governor who himself died in a helicopter crash in 2009. The passenger in the sports car was Talya Ballo, 26, the only son of a Russian businessman.
Второй погибший в страшной аварии "Порше" - единственный сын главы Ассоциации игорного бизнеса http://t.co/8cEy58ujdxpic.twitter.com/EdQr4O5fAS

— МК (@mkomsomolets) June 27, 2015
"I called him early morning on a mobile, there was no answer. Then my wife and I saw the crashed blue Porshe on the news, and realized it was his friend's car," Igor Ballo, father of the man who had been the passenger, told Lifenews.
You can share this story on social media: