'Freedom Flotilla': Activists set sail for Gaza to break Israel blockade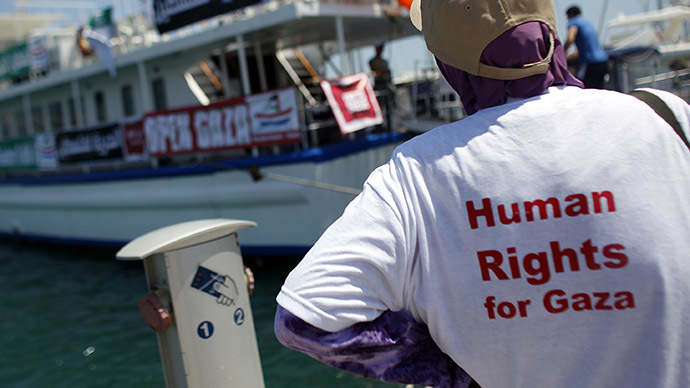 An international team of activists has set sail for the Gaza Strip, in a bid to break Israel's sea blockade with four boats. It comes five years after a similar attempt finished in bloodshed.
The so-called "Freedom Flotilla III" departed from various ports in Greece on Saturday. This is the third attempt to break the Palestinian blockade, which has lasted for nine years, according to a news release on the campaign's official webpage.
READ MORE: 'ICC credibility test': Palestinians submit first war crimes evidence against Israel
"Our strong determination is to get to our destination despite [Netanyahu's] threats to stop us," Arab Israeli lawmaker Basel Ghattas wrote on his Facebook page on Friday.
Ghattas is a member of the team of around 70 people, including former Tunisian President Moncef Marzouki and Spanish MEP Ana Maria Miranda Paza. Their journey is the result of "the joint work of campaigns from Spain, Sweden, Norway, Greece, Canada, Italy, the United States, and many other countries," spokesperson for the global Freedom Flotilla Coalition, Loukas Stamellos, told the Common Dreams news website.
"At the moment we are sailing on the Swedish boat Marianne of Gothenburg, which [is leading] the flotilla, in the neutral waters of the Mediterranean. Aboard there are an Al Jazeera camera crew, a New Zealand TV crew and Israeli journalist Ohad Hemo, as well as the former Tunisian president and Palestinian member of Israel's parliament," RT's source on one of the ships said on Saturday, adding that they plan to arrive in Gaza on Monday.
Freedom Flotilla III sets sail: #NextPortGazahttps://t.co/PboR0MjE85pic.twitter.com/0POmPWE1rs

— Freedom Flotilla (@GazaFFlotilla) June 27, 2015
Last week, Israel's Deputy Foreign Minister Tzipi Hotovely called the flotilla "the work of provocateurs whose aim is to blacken Israel's face." She added that the ministry had been working "through diplomatic channels night and day" not to let the flotilla into Israeli waters.
READ MORE: Israeli deputy minister calls on Arab members of Knesset to give up citizenship
On Wednesday, UN Secretary-General Ban Ki-moon said he believed "a flotilla will not help to address the dire situation in Gaza," but once again urged Israel to "lift all closures, with due consideration of Israel's legitimate security concerns."
The Gaza blockade was introduced in 2006, following the capture of an IDF soldier by Hamas, and became tighter a year later when the territory came under the control of the Islamist movement.
Before May 2010, a number of flotillas had managed to reach Gaza, but the first "Freedom Flotilla" ended in tragedy, when 10 Turkish activists were killed by the Israeli military. Since that incident, all attempts to reach the blockaded territory have failed, but have not ended in bloodshed.
Because the people only remember Gaza when there is a war. Cooming soon #NextPortGazahttps://t.co/vx9HDUwBFe

— Freedom Flotilla (@GazaFFlotilla) June 27, 2015
In summer 2014, Israel's 50-day Operation Protective Edge killed 2,200 Palestinians, most of them civilians, with 73 losing their lives on the Israeli side. The operation also left some 100,000 Gazans homeless.
You can share this story on social media: