Israeli deputy minister calls on Arab members of Knesset to give up citizenship
Published time: 24 Jun, 2015 19:47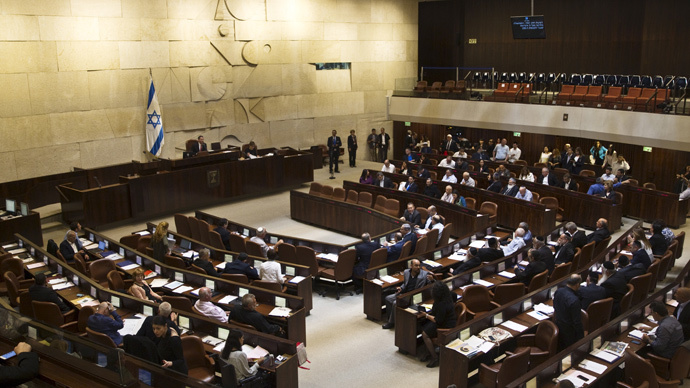 Israel's deputy interior minister has caused a scandal by accusing Arab Israeli members in the Knesset of supporting terrorism and saying he would act to revoke them of citizenship.
Yaron Mazuz, who is also a member of Knesset for PM Benjamin Netanyahu's Likud party, waged the assault on his colleagues from the Arab Joint List on Wednesday during a debate on the cancellation of restriction on "family reunification," which stops the Palestinians who marry Israeli nationals from receiving the citizenship.
The deputy interior minister took to the stand to give the government's point of view of why they were against the proposed legislation. However, things quickly got out of hand.
Mazuz, who was on the receiving end of constant heckling from Joint List MKs, decided to launch a tirade of abuse at his opponents. "We are doing you people a favor by even allowing you to be seated here – terrorists won't be allowed to sit here. You people are in a democratic state, so respect the state. Whoever acts against the State of Israel using terror – has no right to be here," he said, Haaretz reported.
"It's unthinkable that from this abode, people will go out and participate in terror flotillas against the State of Israel."
Knesset erupts after deputy minister calls on Arab lawmakers to "return" Israeli citizenship http://t.co/HpICkqoYvTpic.twitter.com/HOVJAG4gUk

— Haaretz.com (@haaretzcom) June 24, 2015
Addressing Israel's Joint Lists's outspoken MK Hanin Zoabi, who had taken part in the 2010 Gaza flotilla, he said: "You are the first who ought to return your ID." The Joint List is an alliance of four predominantly-Arab parties.
This was the final straw for many Jewish and Arab Joint List and left-wing Meretz MKs, who rushed towards the stand where Mazuz was speaking from. They took out their ID cards and began to throw them at the deputy interior minister.
Israeli Prime Minister Benjamin Netanyahu took to the podium to try and restore order, but did not condemn Mazuz for his abusive comments.
"Every Israeli citizen, Jewish or not, has the right to vote or run for Knesset, but all citizens must obey the law,"he said, according to the Jerusalem Post. "No one has the right to make false accusations that IDF soldiers committed war crimes."
MK from the Arab List Aida Touma-Sliman launched a broadside against Netanyahu."The prime minister is justifying incitement against us. Shame on him,"she said."I am a native of this land. My father was born here before the establishment of the state. No one is doing me a favor by giving me an ID card."
Her comments were echoed by Meretz MK Issawi Frej, who was equally scathing of Netanyahu's comments.
"Bibi [Netanyahu] thinks I need to thank him for the Israeli citizenship, Bibi thinks he's doing me a favor,"Frej said, according to the Times of Israel. "So, Bibi, you aren't doing me a favor. I am an Israeli citizen by right, not by charity, and if you don't want me here, you are invited to take my citizenship away. Only know: the moment you do that, you will strip Israel of its democracy, and this time it'll be for good."
The bill on Palestinians having rights to Israeli citizenship, and a second motion on canceling the restrictions on so-called family reunification were both overwhelmingly rejected by the Knesset.