​Armenia police regroup as Yerevan 'electric protests' charge up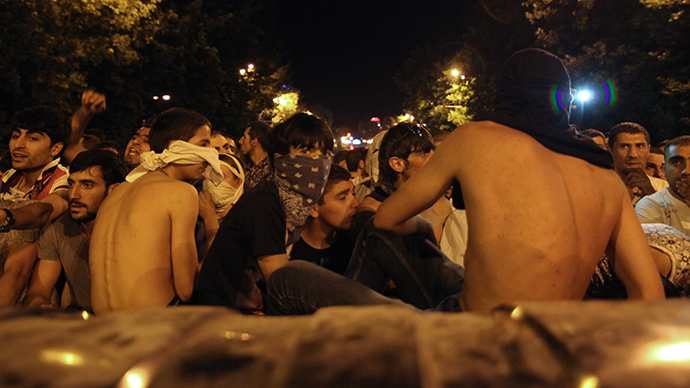 Extra police units have been brought into central Yerevan to stave off growing crowds in the Armenian capital. The week-long mass protest, which organizers claim to be apolitical, is directed against the government's move to increase electricity prices.
Up to 20,000 people were singing, dancing and waving Armenian tricolors just hundreds of yards from the presidential palace on Friday night, but tension at the daily demonstrations, which have been going on for more than a week, have been growing.
Throughout the day police have been protecting government buildings and stopping splinter groups from marching to other parts of the city, forcing demonstrators into a single large gathering. On Friday evening several hundred more riot police were deployed to the area amid reports of protesters' attempts to block nearby streets.
There's now something like a buffer zone between protesters and police. #ElectricYerevan. pic.twitter.com/db0BEN1PR9

— Ilya Petrenko (@ilpetrenko_rt) June 26, 2015
Protesters have slung accusations of corruption at their own government but say they are not looking to overthrow their leadership. One prominent banner at the demonstration read "This is Baghramian [the name of the street where protesters have gathered] not Maidan" – the name of the square where Ukrainian protests eventually toppled Viktor Yanukovich 18 months ago.
Riot police are regrouping. #ElectricYerevanpic.twitter.com/yJ6v40B4qs

— Ilya Petrenko (@ilpetrenko_rt) June 26, 2015
Meanwhile the Armenian president, according to his press service, noted on Friday that there were no "anti-Russian sentiments" at the protest, and that the activists themselves "prove the absurdity of these assumptions." He acknowledged the earnest discontent of the people, but insisted the hikes were inevitable due to high inflation and rising generation costs.
READ MORE: Tariff freeze & police brutality probe: Armenia protesters outline demands
On Thursday, Prime Minister Hovik Abrahamian promised relief for 105,000 of the poorest families in the country of 3 million people, but said the government had no plans to reverse the increases, which come into force on August 1.
Alongside the freezing of electricity tariffs, protesters are demanding that the use of force by police officers earlier this week be investigated. However, the demonstrators rejected two offers of direct meetings with president Serzh Sargsyan, saying they do not want a compromise solution.
Whatever they mean by that. pic.twitter.com/XnJQFidYJh

— Ilya Petrenko (@ilpetrenko_rt) June 26, 2015