'No mandate or moral right to say yes': Greece rejects 'generous' EU bailout proposal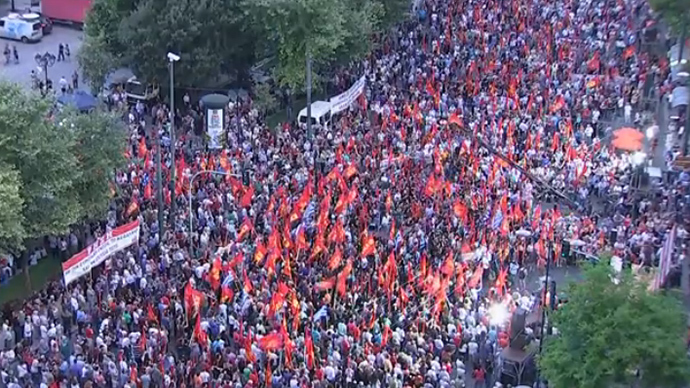 Negotiations over the extension of the Greek bailout will go the wire, after Athens resoundingly rejected the latest conditions for a five-month €15.5bn from its creditors, who are due to meet on Saturday afternoon.
"The creditors' proposal to the Greek government would require introducing deeply recessionary reforms as a condition for the funding, which is totally inadequate, over the five months period," said a statement from the Greek government, which held a meeting lasting well into the late evening, as anti-austerity protesters occupied the square before the parliament building in Athens.
The latest proposals include pension and VAT reforms in exchange for cash from the IMF and the European Central Bank. Most of the disagreements lie over Greek refusals to limit defense spending cuts, and privatization of regional airports, according to Eurozone negotiators, who spoke to the Guardian.
READ MORE: Greece's creditors ready to unlock €15.3bn till November – media
"The government does not have a popular mandate, nor a moral right to sign up to a new bailout," briefed an anonymous senior Greek official, after a tempestuous day of talks ended in Brussels.
With prospects of no bailout, Greece is set to face a virtual bankruptcy next Tuesday, as it cannot repay €1.6 billion ($1.79 billion) of loans, money which Athens admits it doesn't have.
"EU principles were not based on blackmails and ultimatums, and especially in these crucial times no one has the right to put in danger these principles," boomed leftist prime minister Alexis Tsipras in a media briefing in the Belgian capital.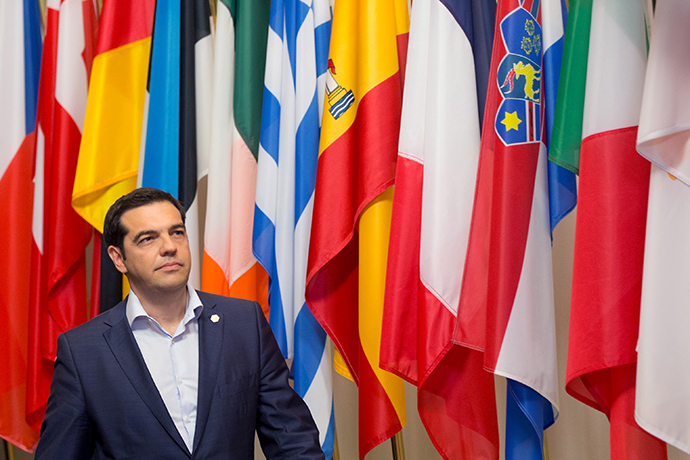 In keeping with the Greeks' tightrope-straddling negotiating style, after talks wrapped up finance minister Yanis Varoufakis accused European creditors of hardening their stance every time Athens made concessions, but also told reporters there was "no reason why we cannot have a deal."
European officials were also not backing down, ahead of the EU finance ministers meeting on Saturday, by which time a Greek proposal is supposed to be on the table for consideration.
"We are all of the opinion that the [new bailout] offer is very generous. Now one can only hope that the internal processes on the Greek side lead to all involved in the negotiations finding a solution tomorrow," said German chancellor Angela Merkel in Brussels.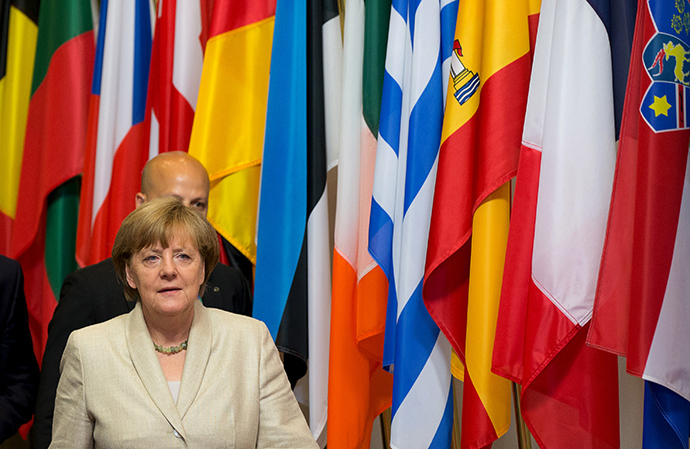 The €15.5bn ($17.3bn) offer includes no new money, but will be financed from existing bailout allocations, agreed three years ago, and interest accrued on previous loans to Greece.
European officials are now drawing up plans for a potential Greek default, including the introduction of capital controls, which will help the EU stem losses from a run on the Greek banks, which are already being kept alive by funds from the rest of Europe. Among the touted 'ringfencing' measures are temporary closures of all banks, and a limit on ATM withdrawals for ordinary Greeks, who have been taking out hundreds of millions of euros out of their banks each day for the past week.
Even if an emergency deal is agreed this week, longer-term prospects look uncertain, with one EU official saying that nobody trusts the Greek left-wing government to execute any long-term reforms. Despite receiving a massive "haircut" on its debts in 2012, the Greek government still owes unsustainable obligations of over €240 bn ($268 bn). According to the Guardian, at least one EU leader, the UK prime minister David Cameron, told a fellow European head of state, that the country would be better off defaulting, exiting the Eurozone, and rebuilding its economy from the ground up.
In the meantime, thousands of protesters led by the Greek Communist Party took to the streets in Athens Friday night to rally against creditors' proposals which would imply more austerity measures. Their slogans included: "No to the new agreement, rupture with lenders."
The Greek Communist Party has also released a statement, in which they claim Greece has paid enough "for blackmail and mockery," calling on Greece to break with the EU.
Anti-austerity and pro-EU rallies have alternately taken place in the iconic Syntagma Square over the past week, each demonstration drawing huge crowds of supporters.