​Panama ex-dictator Noriega begs for forgiveness over military rule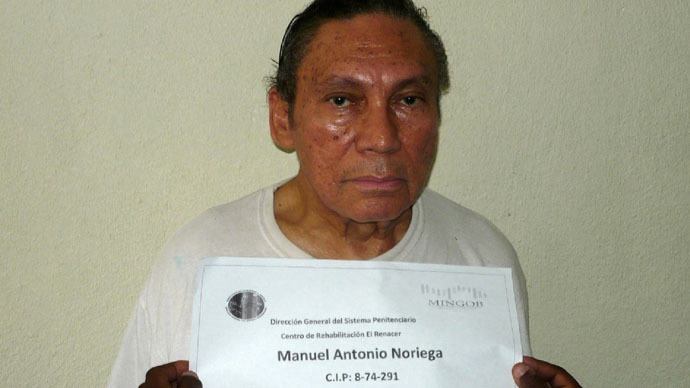 In his first interview with the media since 1996, Manuel Noriega, Panama's imprisoned former dictator apologized to the nation for the actions of the military regime which ruled the country for several decades.
In an interview with Panama's local Telemetro channel, Noriega read a prepared statement, in which he asked his countrymen for forgiveness and said that his decision to offer an apology was the result of consultations with his family, the Church and his own conscience.
"I am asking for forgiveness from all the people who were offended, affected, hurt or humiliated by my actions or those of my superiors in compliance with orders, or those of my subordinates," Noriega said.
He also emphasized that was not motivated by any personal interests but solely by an aspiration to put a termination to the military regime era led by several military officers for two decades which resulted in the devastation of the country and deaths of hundreds of its citizens.
"I want to close the cycle of the military era as the last commander of that group asking for forgiveness," Manuel Noriega added.
However, he refused to comment on any specific abuses committed by the regime including the actions that led to the disappearance and murder of two his prominent opponents. He also avoided giving direct answers to questions asked by the interviewer.
"I have come here today to express the idea of pardon before the alter of my conscience," Noriega said, adding that he did not want to distract from the "solemnity" of his statement by going into specific details of any events occurred during the military rule.
He described himself as a "friend of God" adding that he was "totally in peace" and his strength was "divine" one.
El ex-general panameño Manuel Noriega (gobernante de facto de 1983-89) pide perdón a su pueblo http://t.co/cjmnVqjW0Opic.twitter.com/wEIstKajGv

— RT en Español (@ActualidadRT) June 25, 2015
Manuel Noriega was an officer in the Panama military, ruling the country as a dictator from 1983 to 1989 before his overthrow that came as a result of a US military invasion. After the invasion and the end of his rule he was brought to the US and convicted of drug trafficking and racketeering in 1992, as he had been a central figure in the cocaine trade in the 1970s aiding the drug traffickers.
He served time in the US jail until 2010 when he was extradited to France, jailed for seven years and was then convicted in absentia in Panama to which he returned in 2011. He is currently still serving a 60-year sentence for murder, embezzlement, corruption and other crimes connected to the former military regime.
Despite being 81 years old, Noriega appeared to be in good health. He has never appealed for any changes in measures of restraint, although his family and lawyers have requested house arrest instead of imprisonment on medical grounds.
The public reaction to Noriega's apology was mixed with many surprised by the apparent capitulation of the famously stubborn strongman. However, others saw it as Noriega's attempt to escape imprisonment and to finish his sentence under house arrest, as reported by the Guardian.
"The problem with Noriega is you can never distinguish between what's true or not," said Richard Morton Koster, an American novelist who lived in Panama for many years an wrote a book about the Torrijos-Noriega dictatorship, as quoted by the Guardian.
You can share this story on social media: