EU drafts plan to counter Russian media 'disinformation', targeting RT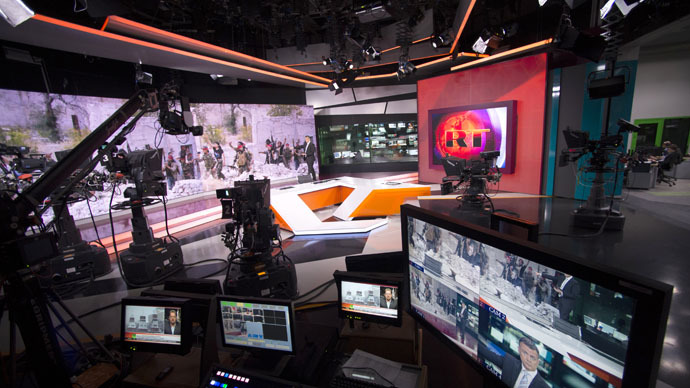 The EU has drafted a plan to counter what it sees as "Russian disinformation activities" calling for the promotion of EU policies in the post-Soviet space and the implementation of measures against Russian media, including RT.
The nine-page paper drafted by the EU Foreign Service and obtained by EUobserver was prepared ahead of the June 25-26 summit and is set to be voted on by EU leaders on Thursday.
The plan is aimed at tackling Russia's "use and misuse of communication tools" and the "promotion of EU policies" in former Soviet states as well as support for "independent media" and "increased public awareness of disinformation activities by external actors," the report says.
It specifically mentions RT, which according to the report broadcasts "fabrications and hate speech from their bureaus in EU cities."
"The EU … will work to improve co-operation between national regulators, including through meetings of the European Regulators Group", it adds.
READ MORE: For propaganda & 'democracy promotion': State Dept seeks budget to counter RT
The European Commission also plans to "table a new legislative proposal to improve the regulatory environment and take account of current challenges," according to the draft.
The plan says that the EU Foreign Service will create a special cell to spearhead the activities called East StratComTeam by September. It will distribute information in Russian and in local languages in the EU's eastern neighborhood, in countries such as Georgia, Moldova, and Ukraine.
The Russian Foreign Ministry lashed out at the EU over the report, saying that the proposed plan is violating the right to freedom of expression and creating conditions of total discrimination against Russian media.
The draft plan presented on Tuesday is "clearly aimed at pushing out Russia's presence in the international media field," the ministry said in a statement on Wednesday. "Following the introduction of restrictive measures against Russian journalists the EU is trying to create conditions for the total discrimination of Russian media."
While the Western media is speaking in one voice, the EU is trying to push out one of the few alternative sources of information, said RT's editor-in-chief Margarita Simonyan.
"The EU is actively trying to shut out RT, to stifle a rare alternative voice in international news media," she said.
"It's not enough that there are hundreds of Western newspapers, TV channels, websites and radio stations, all beaming the same take on what is going on in the world. The UK has created a 1,500-strong army unit to, among other things, fight Russia in the social media space. NATO has a special taskforce dedicated to countering Russia's influence. Deutsche Welle just launched a 24-hour English-language news channel that's supposed to compete directly with RT – despite the global presence of Euronews, BBC World News and CNN International."
"If despite all these efforts the EU is still concerned with "losing the information war" to Russia, perhaps the time has come for it to realize that people around the world simply no longer believe their same tired, one-sided narratives of current events," said Simonyan.
READ MORE: American broadcasters see RT as major challenge, want to try to compete
The EU project was previously discussed in March, however no details were revealed at the time. The EU announced its plans following US Secretary of State John Kerry's plea to lawmakers for more money to tackle the so-called Russian propaganda in February.
Speaking before the House Appropriations Subcommittee on February 26, he urged for the setting up of "democracy promotion" programs around the world.
"Russia Today (sic) can be heard in English, do we have an equivalent that can be heard in Russian? It's a pretty expensive proposition. They are spending huge amounts of money," Kerry said apparently forgetting that Voice of America has been broadcasting in Russian since 1947.
READ MORE: Head of US state media put RT on same challenge list as ISIS, Boko Haram
Though the US government media receives $721 million a year, in the budget proposal submitted by Kerry, the Department of State asked for "$639 million to help our friends in Ukraine, Georgia, and Moldova as they seek to strengthen their democracies, withstand pressure from Russia, and to integrate more closely into Europe."
By contrast RT's budget for 2015 is about $225 million. The BBC World Service, which complained about RT "winning the information war" in January, is funded to the tune of $375 million a year.
You can share this story on social media: