Disastrous heatwave kills almost 700 in Pakistan
Published time: 23 Jun, 2015 20:58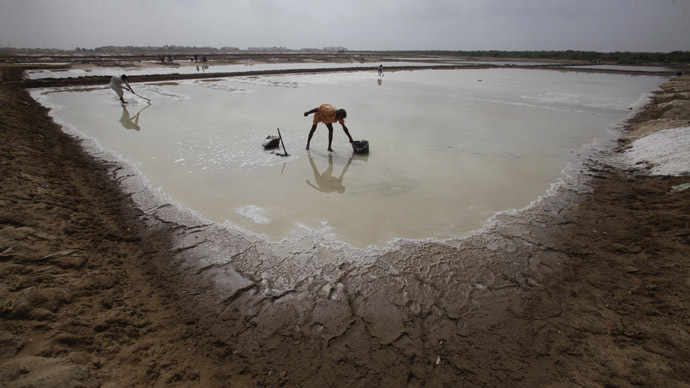 A three-day heatwave in Pakistan has killed nearly 700 people, primarily in the southern province of Sindh. A state of emergency has been declared in hospitals, while army is being deployed to help stroke centers.
"The number of people who have died in the heatwave has now reached 692," Sindh province Health Secretary Saeed Mangnejo said Tuesday, adding that the number may increase. Most of those died in state hospitals of Karachi, capital of the southern province of Sindh.
#PakArmy is Always There When Nation Needs it medics responds to the deadly #heatwave in #Karachi#Pakistanpic.twitter.com/6L67QwxfrY

— Max Wake OFFICIAL™®© (@max_wake) June 23, 2015
Thousands of people are being treated in hospitals – some of them are in a sad plight.
On Tuesday the temperature remained at 44.5 degrees Celsius but Pakistan's Meteorological Office forecast a thunderstorm in the evening, AFP reported.
"Due to a low depression developing in the Arabian Sea, thunderstorms will likely begin this evening and might continue for the next three days," said the Meteorological Office.
READ MORE: World has 10 years to combat climate change, prevent health catastrophe – scientists
The National Disaster Management Authority confirmed that it has obtained an order from the Prime Minister to take immediate measures after the death toll of the heatwave in Pakistan reached almost 700. The Pakistani Army is also deployed – it helps to organize heat stroke centers.
Authorities have come under fire for lack of action as well as power cuts which are complicating usage of air conditioners and fans.
"The blame is squarely on the shoulders of the government for its lacklustre performance in providing water and electricity," The Nation newspaper says.
"Our levels of preparedness are exposed as woefully inadequate," echoes The Express Tribune.
Death toll from #Pakistan#heatwave tops 500. By Rizwan Tabassum #AFPpic.twitter.com/Jmyk1dWpmD

— AFP Photo Department (@AFPphoto) June 23, 2015
The prime minister promised to stop electricity cuts, but the number of outages has been reported to increase.
Another major problem is that the Muslims have the holy month of Ramadan now which means that they must stick to a strict fast that prohibits eating and drinking in daylight hours. No drinking during a heat is very dangerous – it can lead to dehydration which can cause death.
READ MORE: Asphalt melting: India heat wave kills over 1,400 people (PHOTOS)
Other countries in South Asia have also been hit by heat this year. Last month abnormal temperatures killed more than 2,000 people in India. Scientists explain these disasters with the El Niño phenomenon which causes temporary climatic changes in Asia, America and Australia. In South Asia it particularly weakens monsoons, decreases amount of precipitations and causes droughts.
#Pakistan#heatWave death toll spikes towards 700 http://t.co/qTlfg7ZJLApic.twitter.com/RvZWEMvz2t

— Yeni Şafak English (@yenisafakEN) June 23, 2015