Police blast protesters with water cannons in Armenia's capital, over 200 arrests (VIDEO)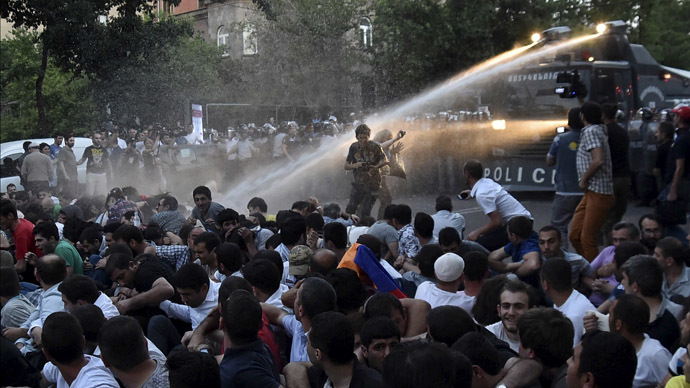 Over 200 participants in a rally against electricity price hikes in the Armenian capital Yerevan were detained by police after they refused to withdraw, even after the use of water cannons. There were injuries reported on both sides.
On Tuesday morning, Armenian police used force to clear out several hundred citizens protesting against the rise in utility charges.
The activists attempted to march to the presidential headquarters. After police stopped them, the protesters staged a sit-in with approximately 200-300 participants on Marshal Baghramyan Avenue in downtown Yerevan.
Armenian President Serzh Sarkisyan expressed readiness to meet with a group of four activists to discuss their claims, but the organizers of the rally refused to cooperate.
READ MORE: Thousands protest electricity bills in Armenia's capital
Police warned protesters several times that their actions were illegal. After being rebuffed, police used water cannons and detained the activists en masse. Journalists present at the event also received a dousing from the water cannons.
Altogether, 237 people have been arrested and 25 sought medical attention, three of them being hospitalized. Reportedly, 11 police officers were also injured.
Law enforcement officers seized knives, knuckle dusters, batons and metal rods, police spokesman Armen Malkhasyan told TASS.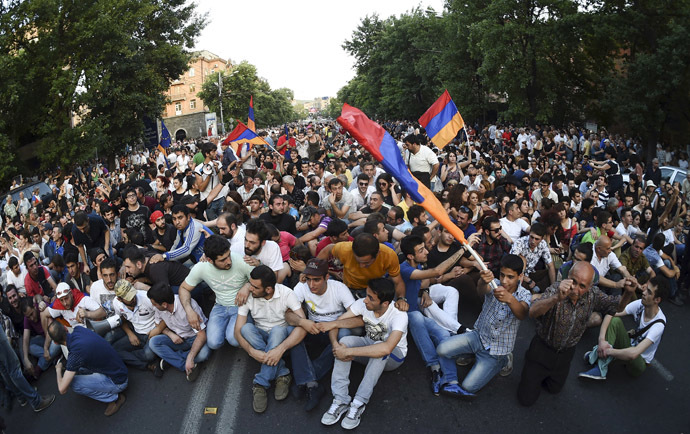 According to Armenia's criminal code, some of the arrested protesters may face up to two years in prison on violent behavior charges and breach of public order.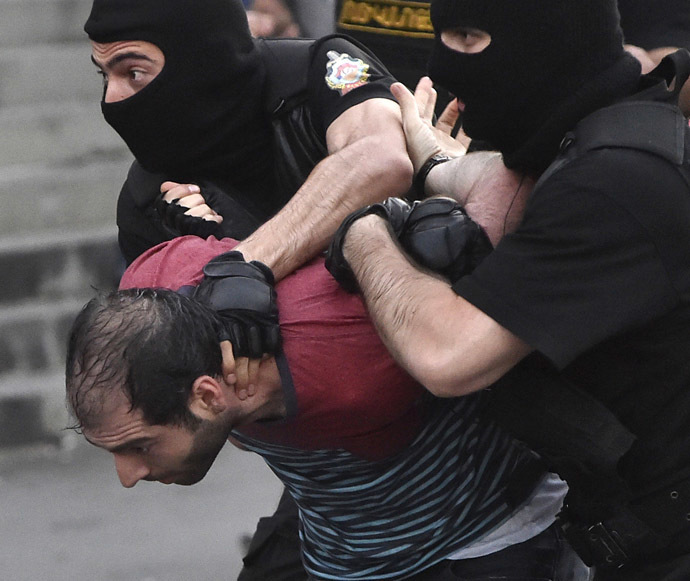 After the news of the police action reached the Armenian parliament, the opposition Armenian National Congress faction walked out in protest.
Traffic flows in the Armenian capital's downtown area are back to normal.
The protests in Yerevan began several days ago, when, on June 17, the national regulation commission fixed new utility tariffs for electricity, supplied to final users by the Armenia Electric Mains company.
You can share this story on social media: