Thousands protest electricity bills in Armenia's capital
Published time: 22 Jun, 2015 18:16
Edited time: 23 Jun, 2015 07:20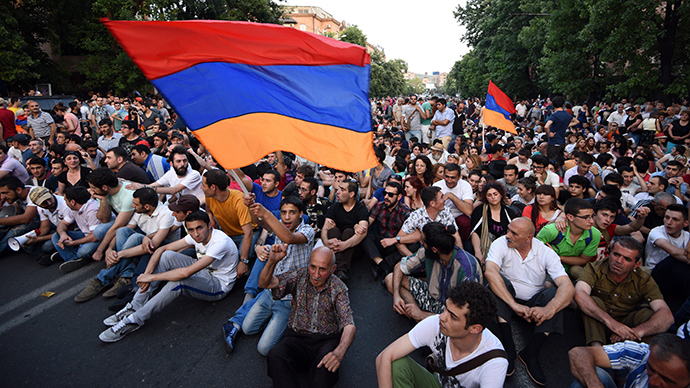 Thousands of people have gathered in the center of Yerevan, Armenia's capital, to demand that the head of the country retracts the authorities' decision to hike electricity prices for the public.
Armenian police have blocked off one of the central streets of the country's capital, Yerevan. A several-thousand-strong protest march is heading towards the president's residence which is situated on the same street. The protesters are demonstrating against an increase in electricity tariffs scheduled for August this year.
Police in riot gear have formed several lines across the street, backed up with water cannons – which they are yet to put to use.
The head of Yerevan's police has told the protesters that Armenian President Serzh Sargsyan is ready to talk to several of them.
"Make up a group of three to five people and the President of Armenia will see them. The rest of the protest participants have to return to Freedom Square," he told the gathering. Freedom Square was where the march started.
#baghramyan#yerevan#nowpic.twitter.com/bKRB1Fk4jo

— Armen Khachikyan (@armen_kh) June 22, 2015
However, the demonstrators turned down the offer, saying the president can cancel the increase in tariffs without their being present.
The protesters said that their rally is a peaceful one and complies with the country's constitution. However, the police have warned them that they reserve the right to use force to disperse the gathering should the protesters disobey police orders.
Sitting protest against electricity price hike in the middle of #Baghramyan street #Yerevanpic.twitter.com/oM6RQTrZxA

— Gegham Vardanyan (@reporterarm) June 22, 2015
The rally began in Yerevan's Freedom Square on June 19 and instigated a sit-in which demanded that the tariff increase be canceled. Should it not have happened by the evening of June 22, the protesters warned that they would march on the president's residence.