Pilot crash lands, runs away after deadly mid-air collision (VIDEO)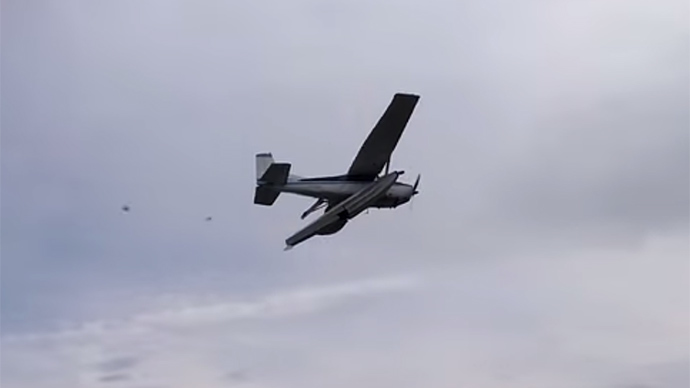 Two people have died in a mid-air plane collision above northeastern Alberta, Canada. The pilot of one of the aircraft managed to crash land and escapes his plane on foot.
The Cessna 172 and a Cessna 185 light planes collided near Fort McMurray according to CBC News. Both people on board the 172 died in the crash, police said after discovering the debris east of the city.

The pilot of the 185, however, managed to land relatively intact. This video, filmed by a helicopter mechanic at the Fort McMurray airport, shows the crash landing that took place Sunday night.
Warning: strong language
The Cessna floatplane can be seen going down with its pontoons broken and flooded to one side. The plane goes down off the runway and proceeds to dig its propeller into the ground in a cloud of dust. A fire truck then quickly rushes to the wreckage.

Surprisingly, a few seconds later, the pilot is seen leaving the remains of the plane and running away.
One of our training aircraft was involved in a tragic accident. We cannot provide any further details at this time. pic.twitter.com/lkLnxhPE7e

— McMurray Aviation (@McAviation) June 22, 2015
Cessna light planes are often used as recreational and training aircraft. McMurray Aviation, a company providing pilot training and aerial tours, has said in its twitter that one of their aircraft was involved in a "tragic accident," but they could not provide further details. The company's website lists the Cessna 172, but not the 185, in its fleet.

Those who died in the collision were not immediately identified. Police are hoping to glean more information to determine what exactly happened by searching for additional witnesses, examining the crime scene and speaking to the survivor of the collision.