2 blasts in Kiev outside branches of Russia's biggest bank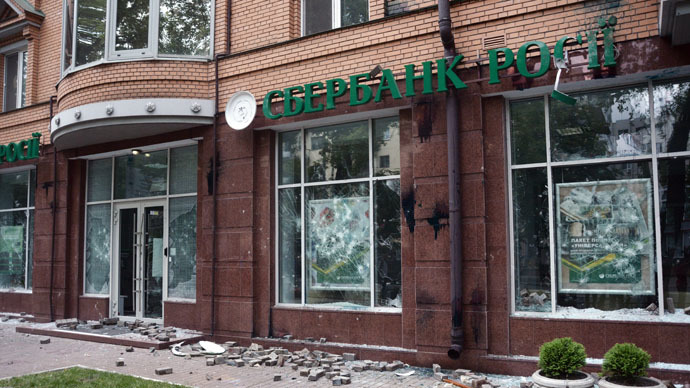 Two explosions have targeted two branches of Russia's Sberbank in the Ukrainian capital Kiev on Monday night. Local police are investigating the attacks, which damaged buildings and startled nearby residents.
Reports of loud blasts and photos of the damaged bank premises in Kiev appeared on social media late on Sunday (early on Monday Kiev time). Initial accounts state that the branches on Anna Akhatova street and Frunze street were targeted. The attacks were carried out minutes apart and occurred at around 1 am local time.
Слухи подтвердились - Сбербанк россии в Киеве подорвали! Адрес: ул. А. Ахматовой, 46-А. pic.twitter.com/l4B1WIP6cx

— Aliev Eldar (@aliev_aliev) June 21, 2015
Both branches are located next to residential blocks and the explosions woke up and alarmed hundreds of nearby city dwellers. Witnesses took to social media and explained how buildings shook and numerous car alarms went off as a result of the blasts.
В Киеве на ул. Ахматовой 46а произошел #взрыв отделения #сбербанк россии. На месте уже работают следователи. pic.twitter.com/dbNKvxWOUn

— Такі Справи (@TakiSpravy) June 21, 2015
A webcam video, which was posted on YouTube, less than an hour after the explosions, claims to show the moment when one of the bombs went off.
No one has claimed immediate responsibility for the attacks. Police in the Ukrainian capital are investigating the crime scene, while there have not been any reports of injuries.

This is not the time that the Russian bank has been targeted in Ukraine. On Saturday, unknown attackers threw Molotov cocktails at a Sberbank branch in the city of Nikolaev.

Meanwhile in April, another Kiev branch of Russia's biggest bank was bombed. Police said they discovered two more unexploded devices when they arrived at the scene.
The first Sberbank branch to be vandalized was located in Independence Square (Maidan), which happened during the mass protests against former President Viktor Yanukovich and his government. The bank's sign and window's were damaged, while the building was barricaded with a wall of garbage, several meters high.

During more recent assaults on the Russian bank, leaflets have been left near the scene calling for more vandalism on properties owned by Sberbank. Despite the numerous attacks, there have not been any reports of any prosecutions by Ukraine's law enforcement authorities.
Having inherited its vast network of branches (and, apparently, part of its name) from the Soviet Sberkassas ("savings banks") institution, Sberbank is among the top five banks in Ukraine, in terms of assets, according to TASS.
You can share this story on social media: