'Refugees are welcome here': Thousands march in Berlin to support migrants, Greece
Thousands have taken to the streets of Berlin to express their solidarity with asylum seekers coming to Europe. The activists also expressed their support for the people of Greece, who are suffering from a long-running debt crisis.
Organized by German opposition parties Die Linke (The Left) and Gruenen (The Greens), as well as other organizations, the protest coincided with UN World Refugee Day.

German police estimated up to 2,500 people attended the rally.
The crowds were marching from the Kreuzberg district to the famous Brandenburg gate in central Berlin.

Protesters were chanting pro-immigration slogans: "No frontiers, no nations, stop deportation!,""Say it loud, say it clear, refugees are welcome here."

"Europe. Democratic. Solidarity. No Frontiers," said one of the banners, carried by activists.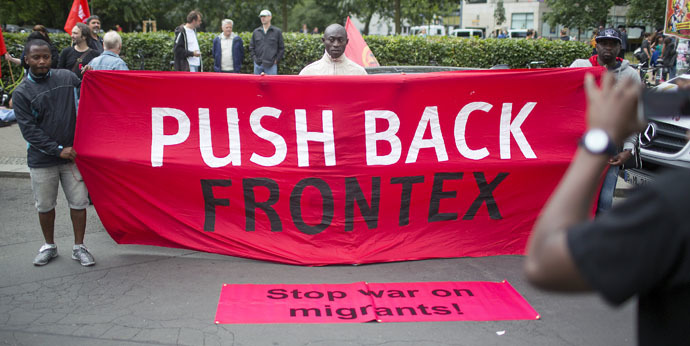 The protesters say they are against the frequent mass casualties in the Mediterranean Sea, where thousands of migrants - mostly from war and famine-torn countries – die trying to make their way to Europe seeking a better life.
READ MORE: 'End extreme inequality': Thousands hit streets of Germany ahead of G7 summit
The demonstrators also expressed objections to the way EU states handle those who manage to cross the sea, isolating them in detention camps and centers.

"According to migrant quotas Germany can host 30,000 refugees. And I think it's a shame because Germany can take at least one million migrants," one of the activists told RT.

Some demonstrators also came to the rally to show their support for Greece, which has recently failed to reach a deal with Eurogroup at bailout talks intended to break the deadlock between Athens and its international creditors.
"Technocratic, cold and neoliberal Europe that is led by Germany is unbearable," one of the banners said.

"We say no we are not on the side of our German government, of the European capital [Brussels] but on the side of the workers," another protestor added.
READ MORE: Eurogroup, Greece say 'crunch' negotiations failed but still time for clutch deal
Greece is struggling to repay its multibillion euro debt to the Troika of international lenders (the IMF, the ECB and the European Commission), and is trying to find a way to unlock a further €7.2 billion bailout.
However, little progress has been made in the ongoing talks between the Greek side and the financial institutions, with no agreement still in sight, as the lenders require Greece to impose austerity measures as precondition while the new government of Alexis Tsipras has rejected the possibility of the country's return to sweeping cuts.
Meanwhile, the IMF's chief Christine Lagarde has warned that on July 1, Greece "will be in default" with the fund if it fails to pay off its debt by the June 30 deadline.
You can share this story on social media: