Occupy Wall Street celebrates 'kissing day' with pics of love amidst violence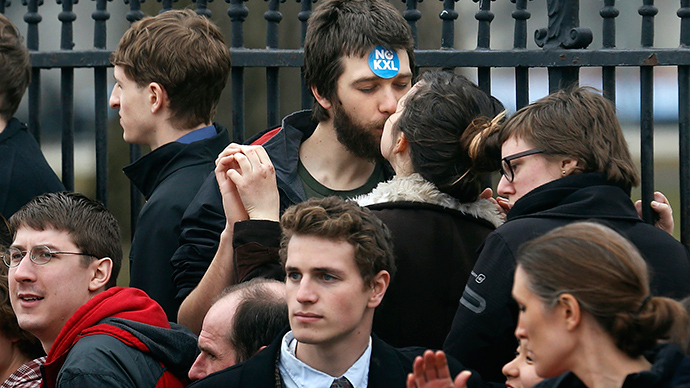 To mark the "National Kissing Day," a decade-old UK tradition, Occupy Wall Street has posted some memorable snaps of memorable lip locks at protests, riots, and even on the way to jail.
The cover photo shows a scene from the March 2014 protest against the Keystone XL pipeline. About 200 protesters marched from Georgetown University through the streets of Washington, DC, and used plastic zip ties to attach themselves to the White House fence.
Though they were arrested, their efforts eventually had a happy ending: President Obama vetoed a proposed Keystone bill in February 2015.
Happy #NationalKissingDay (From @OccupyFrankfurt, 2011) pic.twitter.com/vFRdMWoEOP

— Occupy Wall Street (@OccupyWallStNYC) June 19, 2015
In this photo, an unidentified couple kiss as they are being hauled away by police dispersing a sit-in outside the European Central Bank in Frankfurt, Germany on May 26, 2012.
"@OccupyWallStNYC: #NationalKissingDaypic.twitter.com/z5qM5QbdxV"

— andreijejune (@jejunefreize) June 19, 2015
This photo isn't from a protest, but shows a form of protest, so to speak. Street photographer Mo Gelber took the picture outside a New York courthouse in August 2012, then launched a search for the couple on Facebook so he could get their permission to use the snap in a contest.
The lovebirds turned out to be Alexis Creque and Russell Murphy, arrested for allegedly spray-painting graffiti on a wall outside a fancy restaurant in Manhattan's Lower East Side.
"We had a crazy romance all summer," Creque told the New York Daily News. "It is like a movie."
This picture was taken on the day New York police moved in to disperse the Occupy Wall Street protesters from Zuccotti Park. Over 200 people, including journalists, were arrested during the crackdown.
#NationalKissingDaypic.twitter.com/GquhZLCcr2

— Occupy Wall Street (@OccupyWallStNYC) June 19, 2015
The most famous photo of the June 2011 Vancouver hockey riot featured a visiting Australian student comforting his Canadian girlfriend after they were trampled by both rioters and police.
Scott Jones is seen kissing Alexandra Thomas, as a line of police in riot gear moves down the street to contain street unrest following the Vancouver Canucks' loss of the Stanley Cup to Boston Bruins.