Putin: Russia is not aspiring to superpower status, just wants to be respected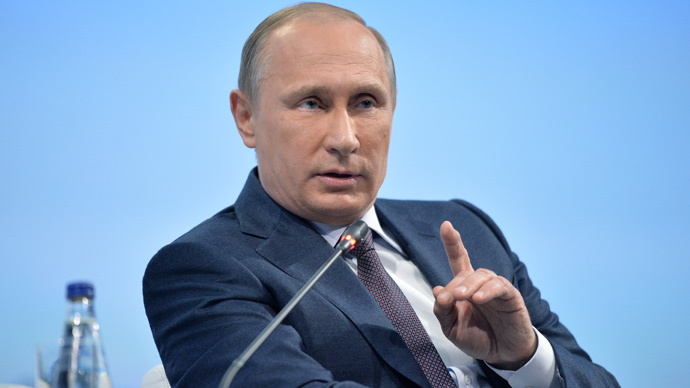 Russia is not acting aggressively and doesn't aspire for hegemony or superpower status, Russian President Vladimir Putin has said during a business forum in St. Petersburg, stressing that it just wants to be respected by its international partners.
Putin, who was speaking at a key plenary session at the St. Petersburg International Economic Forum, said that he doesn't agree with the comments by former French Prime Minister Francois Fillon about Russia "acting more and more aggressively."
"We do not act aggressively. We have started to defend our interests more persistently and consistently."
The president said that Russia "is not aspiring for hegemony or any ephemeral status of a superpower."
"We don't impose our own standards or models of behavior and development on anyone. We want equal relations with all participants of the international community – with the US, European and Asian partners."
Russia doesn't want to be humiliated, the Russian leader stressed.
"I always hear that Russia wants to be respected. And who doesn't [want to be respected]? Who wants to be humiliated? The question itself is strange. By asking to be respected Russia is not demanding something exclusive."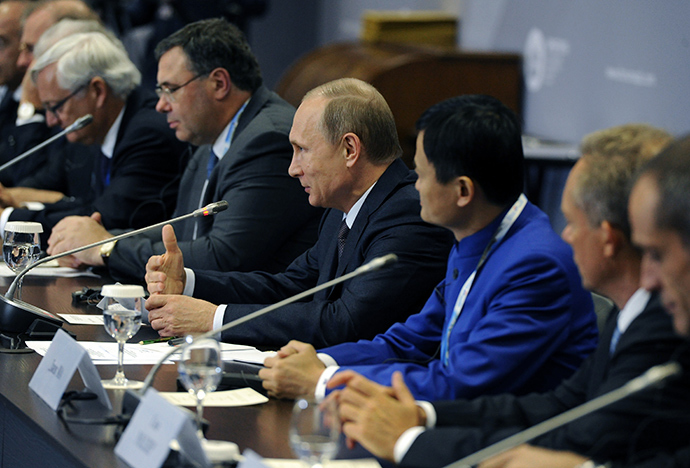 READ MORE: Putin wants neither Russian Empire nor army of clones: Q&A highlights
He warned that Washington and its allies against trying to use the language of ultimatums in its relations with Russia.
"The problem is that they [US] are constantly trying to impose their standards and decisions on us with no regard to our interests," he explained. "In essence they say: 'we are better,' as if the US knows better [than Russia] about what is good for us. Well, let us decide for ourselves what our interests and needs are as dictated by our history and culture."
'Russia influences Donbass but US and EU should influence Kiev'
While Moscow is constantly being told to influence the rebels in Donbass region, the West should also influence Kiev in order to solve the bloody conflict in the eastern Ukraine.
"We do influence [Donbass militias] but it is impossible to resolve the problem only with the help of our influence on the south-east [of Ukraine]," Putin said.
"But we can't do it [influence Kiev]. This is what has to be done by our Western partners – the Europeans and the Americans. Let's work together."
READ MORE: US, European diplomats meet with radicals in Kiev, see 'no threat' from them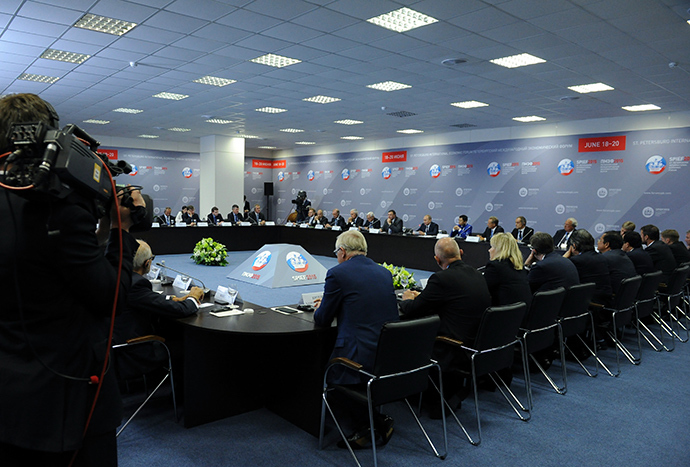 Russians and Ukrainians still remain "one nation, one ethnic group… with its own cultural peculiarities but with mutual history, culture and spiritual roots," said Putin, adding that "whatever happens, in the end, Russia and Ukraine are destined for a common future."
'Russia doesn't want Syria to repeat Iraq & Libya scenario'
Kremlin supports the position of Syrian President Bashar Assad ,as it doesn't want Syria to be swept up in unrest and terrorism like Iraq and Libya, Putin said.
"Before the government structures in Iraq and Saddam Hussein himself were taken down, there had been no terrorists. Let's not forget it. In general, many prefer not to talk about it. Who and how created conditions for escalation of terrorism on these territories? Isn't it clear?"
Putin said that after the Western coalition invaded Iraq "everyone was dispersed, everything was destroyed, Saddam was hanged. What came next? ISIS came next."
"What is going on in Libya? The state has effectively ceased to exist."
'US should make additional attempts to fight absolute evil – ISIS'
US supports and arms Iraqi army but Islamic State [IS, formerly ISIS/ISIL] seized a lot of weapons from Iraqi forces, the Russian president stressed.
The President took part in a plenary session at #SPIEF2015http://t.co/434HOQ3QWkpic.twitter.com/2IMIwXzKZK

— President of Russia (@KremlinRussia_E) June 19, 2015
"Now ISIS is armed better than the Iraqi Army. And it happens thanks to the US. Thousands of US troops are still in Iraq. And what is the result? A sad and tragic one," said Putin.
READ MORE: US-led coalition against ISIS in Iraq, Syria 'mistake' - FM Lavrov
Russia calls upon its partners, both US and EU, "but mostly the US, to make additional attempts to fight the absolute evil, which we consider fundamentalism and the so-called Islamic State, or some other groups of such kind which are in fact the elements of well-known terrorist organizations of global scale which have repeatedly struck the US itself," he added.
You can share this story on social media: