​Israel's poor getting poorer, income gap among largest in developed world – study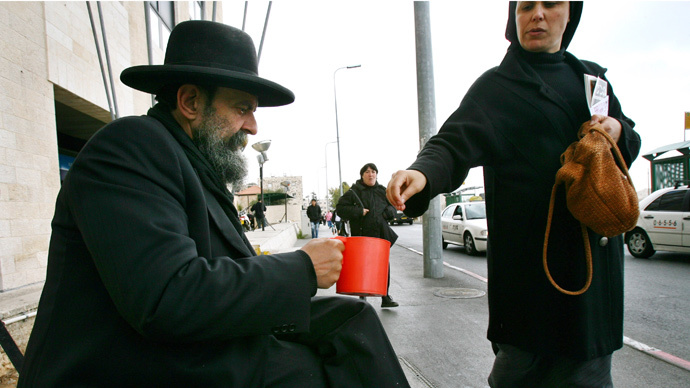 Israel remains among the poorest performing countries in terms of economic equality, while poverty depth, that is how poor the poor are, has worsened, a new study says. A big cutback in government social welfare programs is one of the causes.
The study of Israel's economic life, "A Picture of the Nation 2015," waspublished Thursday by the Jerusalem-based Taub Center for Social Policy Studies in Israel. The study compared Israeli numbers to those of other 33 members of the Organization for Economic Cooperation and Development (OECD).
In terms of inequality, Israel remains among the worst in the OECD, the report said. It is on par with the US and bests only Mexico in this regard. The Taub Center's researchers blame demographic differences, large income gaps in the labor market, and the low effectiveness of the governmental social programs for the situation.
The income gap was pushed wider by how Israelis own real estate and pay rent, with the wealthier segments of society getting most of the rental income. The richest 20 percent receive twice as much from rent as the 80 percent does.
READ MORE: Peace between Israel, Palestine could bring $173bn in economic benefits – study
The inequality problem seems to be improving over time, but "poverty depth," an indicator of how deep below the poverty line the poor are, is getting worse, the study showed. The average income of poor families was 26 percent lower than the poverty line in 1992, but by 2010 poor families' incomes had plunged to 31 percentage points lower.
On the other hand, the poorest Israeli workers saw their wages grow faster than their more wealthy counterparts, apparently due to a raise in the minimum wage.
The study also said Israeli food producers are protected from foreign competition by trade barriers and can get high prices for their products, as indicated by import share on the market. The healthcare system is experiencing a serious crisis, with public expenditure low relative to other OECD countries.
A greater share of Israeli students now excels than in previous years, but the worst-performing are still relatively more plentiful than the OECD average. The share of poorly performing students is decreasing, the study said.
You can share this story on social media: