World's 'smallest drone' raises double its crowdfunding goal in 1 day
Published time: 17 Jun, 2015 20:36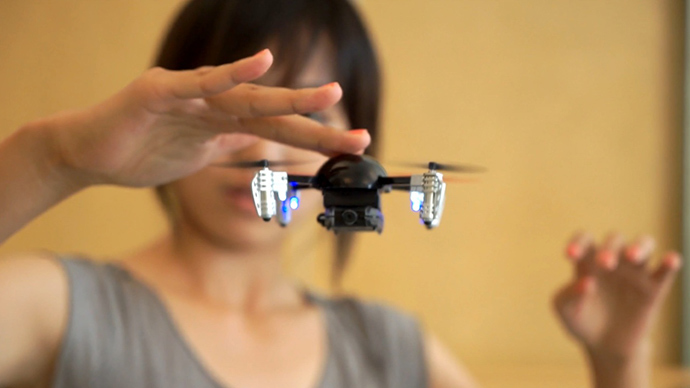 The team behind a personal drone with the smallest gimbal in the world raised over $150,000 in just one day of crowdfunding – twice the sum they aimed to raise in a month.
Extreme Fliers, who created the Micro Drone, say their aim has always been to make a small personal drone. They launched the first edition in 2011 with "incredible" feedback, and the current crowdfunding effort exceeded their expectations of the "drone market evolving."
The campaign for the palm sized device successfully reached its target just hours after being launched, reaching over 200 percent of the $75,000 goal for the month in just a day. Over a thousand people have invested in the new Micro Drone through the crowdfunding effort at Indiegogo.
WOW! We have just surpassed our minimal funding goal! Micro Drone 3.0 Is A Go ➨ http://t.co/ZFJAJlsGRm... http://t.co/GDVuLtQsdd

— Extreme Fliers (@Extreme_Fliers) June 16, 2015
The newest generation of the remotely controlled flying device has a built-in HD camera that streams live footage to a smartphone or virtual reality headset. The video can also be shared live via popular streaming services.
READ MORE: US Embassy, Eiffel Tower: Unknown drones buzz Paris landmarks
Designed by drone enthusiasts and engineers from around the world, its creators claim it can be flown "anywhere no matter your age or flying experience."
'Small #drone' found on White House grounds, Secret Service looking for suspects http://t.co/2YnVbKBWTWpic.twitter.com/NYGukVFtuj

— RT America (@RT_America) January 26, 2015
The drone can fly at a speed of up to 70 km (19 miles) per hour, with a range of 90 meters from the operator. Boasting "precision control and flexibility," the quadcopter frame is produced using 3D-printing technology, so a custom frame can be printed and used instead of the original.
READ MORE: Wings clipped? US to regulate drone usage in 2015
Mass production of Micro Drones will start this fall. Those who have backed the project with at least 125 dollars can expect to be among the first to receive their devices, to be shipped in November.