Wow! Double rainbow shines above Sydney, spectacular photos flood social media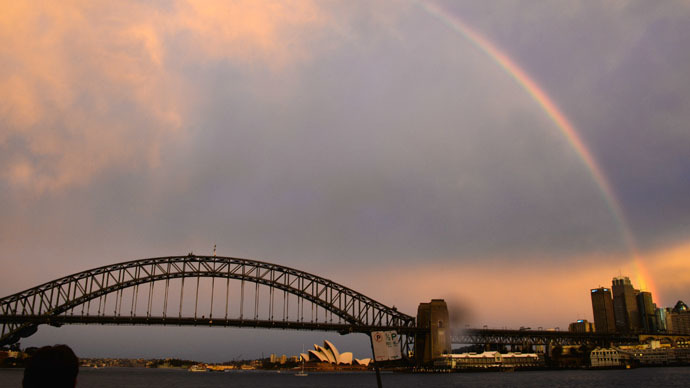 ​If one rainbow is a sign of good fortune, Sydney has been given a double dose. Two arcs shined above the city on Wednesday, adding a colorful addition to the skyline. The Twitter-sphere was flooded with gorgeous images taken by smartphones.
Although there were no pots of gold at the end of the rainbows, the twin beauties provided Sydneysiders with a gorgeous end to a wet and dreary day.
A double rainbow made an appearance over Sydney at sunset. pic.twitter.com/gfdQ94YmWt

— . . . (@Transiting) June 17, 2015
The magnificent display broke through at around 4:30 p.m., transforming the usual dusk light into something more magical.
That magical moment was shared on Twitter and Instagram, with both residents and tourists eager to show off the beautiful scene.
Epic double #rainbow over the #Sydney Opera House! View from @ansaradapic.twitter.com/7aAkoLDBaz

— Amy Simmons (@amesimmons) June 17, 2015
Many seemed at a loss for words, simply responding with "Wow!" Or even "Wow wow wow."
Sydney's double rainbow: wow wow wow (http://t.co/Fyx3xnbL9p) http://t.co/jQmNOdQ2aUpic.twitter.com/vKb1hNzZ9h

— 1001pts Australia (@1001ptsAU) June 17, 2015
Others used the word "awesome" to describe the colorful sky – because, well, it was pretty awesome.
Awesome rainbow over Sydney at the moment pic.twitter.com/P5ugakLpg7

— Hugh Cavill (@hughcavill) June 17, 2015
Although many of the pictures were taken with smartphones, you'd be forgiven if you thought they were photoshopped – because the rare scene was almost too beautiful to be real.
Double rainbow during today's sunset at Maroubra @photosSMH@smh#rainbow#doublerainbow#sunset#sydneypic.twitter.com/aWXtTW1eH0

— louise kennerley (@kennerleylouise) June 17, 2015
Those who weren't fortunate enough to witness the gorgeous rainbows were at least able to joke about it. One Canberra resident shared her sense of humor on Twitter.
I see your double rainbow and raise you this. Canberra's sky right at the moment. pic.twitter.com/hxNBxCf0EV

— Kate (@erstkate) June 17, 2015
Another had the same idea, posting a picture of Canberra's "beautiful" rainbow.
Beautiful Canberra rainbow pic.twitter.com/VkpJTOdNCS

— Osman Faruqi (@oz_f) June 17, 2015
But whether you live in Sydney or not, one thing is indisputable – the Wednesday sky was pretty darn impressive.
Even after the rainbows departed, the Sydney sky remained kissed with bright purple, orange, and yellow.
Rainbow gone but still a gorgeous evening to be out on the bike. #Sydney#cyclingpic.twitter.com/n9DkT8t7Da

— Michael O'Reilly (@MichaelOReilly_) June 17, 2015
Although we don't know when Sydney will be next be graced with such a beautiful sight, we're pretty sure the city will welcome a new set of colorful rainbows whenever Mother Nature decides the time is right.