Battling the Bulge: Danish zoo staff putting rotund beasts on diet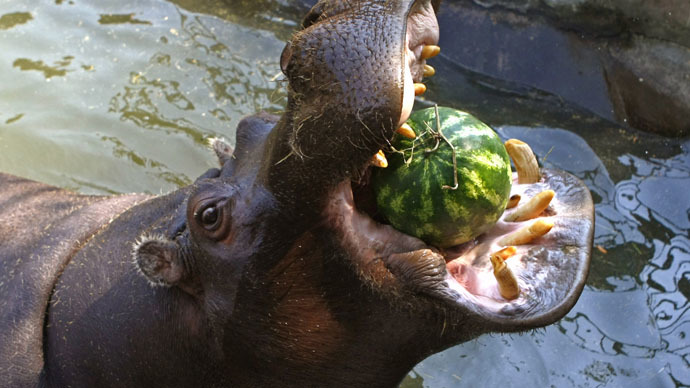 Copenhagen Zoo, which infamously killed a giraffe and fed it to the lions, now has another problem – its animals are overweight. With liposuction and slimming pills off the table, staff are coming up with inventive ways to get its beasts back into shape.
There is not a lot to do when cramped up in a zoo, and this is having an effect on the wildlife at a facility in the Danish capital. They have become so lethargic, that they are piling on the pounds at an alarming rate.
"We have had a lot of fat animals. Fat monkeys, fat elephants and fat cows. Basically all of the animals except the birds," Copenhagen Zoo spokeswoman Tine Mangart Soland told Berlingske Nyhedsbureau, the Local reported.
Fede dyr på slankekur i København Zoo http://t.co/bo8FICh3UG - eb.dk pic.twitter.com/lXQ5P27Cc8

— NorskNyhetsNett (@NorskNyhetsNett) June 16, 2015
Obese animals on a diet at Copenhagen Zoo
While the Copenhagen zoo's food bills have skyrocketed along with its animals' girths, many customers will be wanting their money back, as the beasts are too bulky to make the rounds of their enclosures and give the clientele a show.
The animals being fed eight times a day does not help. However the zoo's staff is trying to make dinner time a little entertaining, and a little more taxing.
"We need to constantly find new ways of getting the animals to move so that they can use their natural behavior," zoo biologist Katrine Friholm told Berlingske.
This involves putting the lions grub up a tree so they have to climb to fetch it, and burying the elephants' snacks, so they have to dig to munch.
READ MORE: Outrage as giraffe killed, dissected, fed to lions in front of kids at Copenhagen Zoo
It is hoped that the overweight members of Copenhagen Zoo won't suffer the same fate as a certain giraffe called Marius.
The 18-month-old male was shot by staff in February because his genes were too common and there were fears of possible inbreeding if he mated.
As if that wasn't enough, visitors, including children, were invited to watch the animal skinned and dissected.
The giraffe's remains were then quite literally, fed to the lions.
The zoo apparently wanted to kill two birds with one stone, as its staff "would never throw away 200 kilograms of meat," Bengt Holst, the zoo's scientific director said. A lethal injection, which critics say would have been a more humane form of death, would have spoiled the meat of the animal, he explained.
You can share this story on social media: