Egyptian court sentences ex-President Morsi to death in 2011 jailbreak case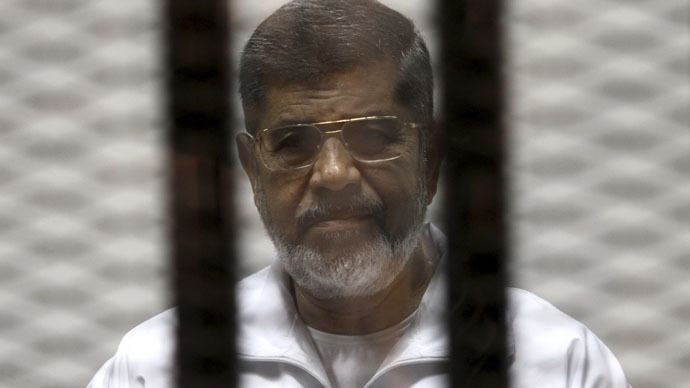 An Egyptian court has sentenced former President Mohamed Morsi to death on Tuesday on charges of killing, kidnapping and other offences during a 2011 mass jailbreak.
The Muslim Brotherhood's leader, Mohamed Badie, along with four other top Brotherhood figures, were also handed the death penalty, Reuters reported. Over 80 others were sentenced to death in absentia.
A court-appointed lawyer for Morsi has reportedly pledged to appeal the death sentence.
Earlier on Tuesday, the court sentenced both Morsi and Badie to life in jail for "conspiring" with foreign groups such as Hamas and Hezbollah to stage a mass prison break and a violent revolt against the state.
The court had referred the sentences to the Grand Mufti, Egypt's highest religious authority, for confirmation before issuing its final verdict.
The court in May sought the death penalty for Morsi and Badie, along with other fellow defendants, who were convicted of killing and kidnapping policemen, attacking police facilities and breaking out of jail during a revolt against then-President Hosni Mubarak.
The former Islamist leader was ousted from power in 2013, following mass protests against his rule.
READ MORE: 'Failure of justice:' HRW slams Egypt's Muslim Brotherhood death sentences
In a separate case, Morsi has also been charged with endangering national security by leaking state secrets and sensitive documents to Qatar.
Morsi was elected president in 2012 as the Islamist Muslim Brotherhood's compromise candidate. He was in power for a year, until he was ousted after mass protests.
In total, 17 Muslim Brotherhood-linked figures were given life sentences Tuesday. The court has also sentenced Egyptian Muslim Brotherhood deputy head Khairat el-Shater and two others to death in the same case, Reuters reported.
Death sentences have been reportedly handed to 13 other defendants in absentia.
The verdicts can be appealed.