Scientists emerge from 8 months of simulated life on Mars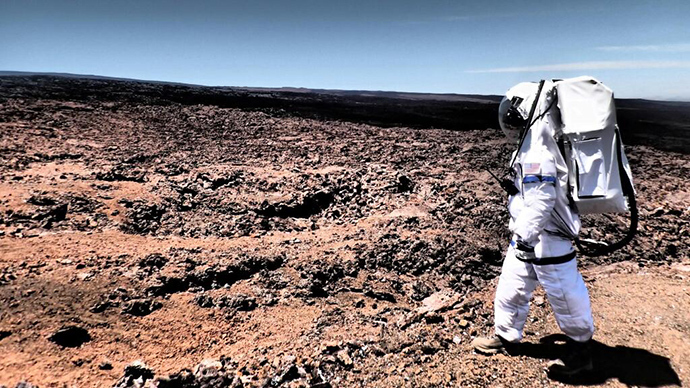 Six scientists, who took part in the NASA-funded HI-SEAS Mars simulation project by living in secluded space modules on a Hawaii volcano for eight months, have finally emerged from their isolation.
Saturday was the first time since the project started that they stepped outside without space suits.
"When we first walked out the door, it was scary not to have a suit on," crew member Jocelyn Dunn, 27, told the media. "We've been pretending for so long."
After 8 months, they are free! @HI_SEAS@NASApic.twitter.com/HoRdq5p8Bp

— Rachel Crane (@RachCrane) June 13, 2015
Wearing a space suit while outside at all times was one of the conditions for grasping what it would be like for humans on a mission to Mars. The goal was to study how crew members would work together in pseudo-Martian conditions. The participants were monitored by cameras, body-mounted trackers and electronic surveys.
READ MORE: Lonely planet: Astronauts to simulate life on Mars for 8 months
Among the six people chosen for the mission were engineers, space researchers and enthusiasts, a former spacecraft technician and even an Iraq veteran combat medic, who has since devoted himself to bacteriological studies. For the first time, the commander of the simulated mission was female.
While real space flight commanders are obliged to have previous astronaut as well as jet pilot experience, the strict requirements were waived for engineer Martha Lenio.
The mock mission took place 2,400 meters up the slopes of the Mauna Loa volcano in Hawaii. The researchers were packed into a dome with a simulated airlock door, and the only scenery for kilometers around was reddish volcanic rock, further adding to the impression of being on the Red Planet.
The HI SEAS facility where folks are living for 8 months to simulate living on Mars. pic.twitter.com/A9v1GaOcO5

— Rick Mastracchio (@AstroRM) June 8, 2015
The principal issues the test was studying were communication problems and emotional tension that can arise between crew members in a confined space, and the ways they resolve them. Its ultimate goal is to work out ways in which future expeditions can detect depression in crew personnel and how they work out their differences.
Ways used to tackle difficulties included collective workouts and yoga. A solar-powered treadmill and stationary bike were also available, but only on clear sunny afternoons.
Still, it was tough at times to cope. Jocelyn Dunn says: "When you're having a good day its fine, it's fun. You have friends around to share in the enjoyment of a good day. But if you have a bad day, it's really tough to be in a confined environment. You can't get out and go for a walk... it's constantly witnessed by everyone."
This concludes the third HI-SEAS (Hawaii Space Exploration Analog and Simulation) mission, which was twice as long as the previous ones. They studied a variety of space exploration aspects, such as psychology, food preparation and diets, and temperature regimes inside the habitat.
The participants made regular forays into the terrain surrounding their dome, always wearing space suits, to simulate the gathering of rock and microbe samples.
You can share this story on social media: