Philae comet probe wakes up, reports after 7 months without contact - ESA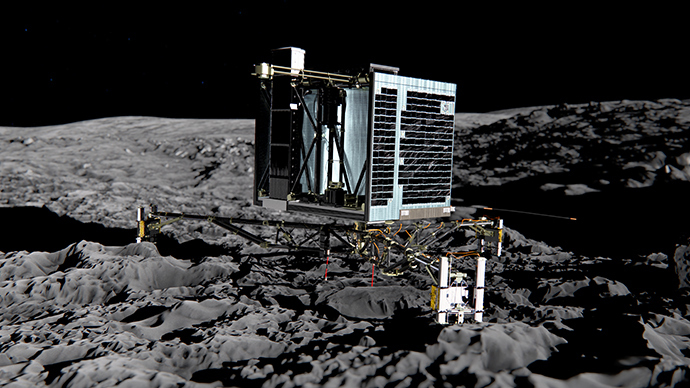 The lander Philae, dropped onto the surface of Comet 67P by the Rosetta spacecraft, has reawakened and reported back, the European Space Agency says. Philae has been out of contact for the past 7 months.
First contact with Philae lasted 85 seconds. It turns out the lander had woken up earlier, but this is the first time since November it has managed to "speak" to Earth.
"We have also received historical data - so far, however, the lander had not been able to contact us earlier," the ESA blog states.
"Philae is doing very well: it has an operating temperature of -35ºC and has 24 Watts available," Philae Project Manager Dr. Stephan Ulamec says in the blog. "The lander is ready for operations."
SIGNAL FROM @Philae2014 RECEIVED #AOS European Space Agency made contact w/Philae lander 22:28CEST 13.06 305 million km from Earth #67P

— ESA Operations (@esaoperations) June 14, 2015
Scientists have managed to analyze some 300 data packets sent by Philae. They are now waiting for a new contact to receive the 8,000 remaining in the lander's memory.
The solar-powered Philae had only been operational for 60 hours before contact was lost on November 15, 2014. With only 90 minutes of sunlight every 12-hour comet day, it couldn't recharge quick enough, and went into sleep mode when its batteries died.
Hello Earth! Can you hear me? #WakeUpPhilae

— Philae Lander (@Philae2014) June 14, 2015
It is now thought to have moved closer to the sun, allowing it to emerge from hibernation. It has marked its awakening with a tweet.
Incredible news! My lander Philae is awake! http://t.co/VtzAQHx4zTpic.twitter.com/SZqnsnNpUZ

— ESA Rosetta Mission (@ESA_Rosetta) June 14, 2015
The mission began a decade ago - it took Rosetta 10 years to reach the comet and drop the landing module onto its surface.
Hello @ESA_Rosetta! I'm awake! How long have I been asleep? #Lifeonacomet

— Philae Lander (@Philae2014) June 14, 2015
It's not known exactly where on the comet Philae is located, although Rosetta has tweeted numerous photographs of the space rock's surface. However, on Thursday the ESA said it might have located the module using images and other data from Rosetta.
Transmission from @Philae2014 received on Earth via @NASAJPL 70m deep space network station in Goldstone #DSS14#WakeUpPhilae

— ESA Operations (@esaoperations) June 14, 2015
Before falling silent in November, Philae managed to complete the first stage of its surveillance mission, gathering soil samples and sending data back to Earth. "This machine performed magnificently under tough conditions, and we can be fully proud of the incredible scientific success Philae has delivered," Lander Manager Stephan Ulamec wrote in the project's blog.
You can share this story on social media: