Russian 'ISIS recruit' girl returns to Moscow, to be questioned by police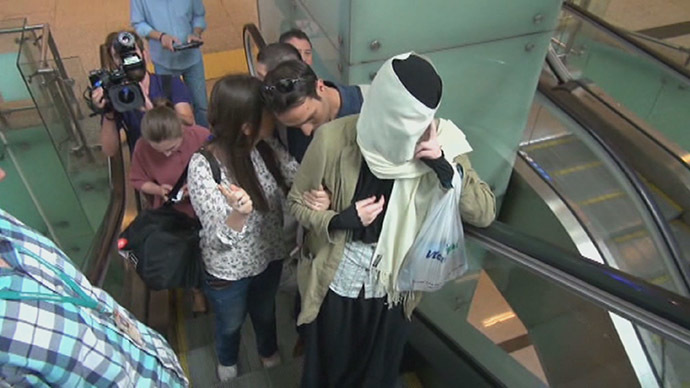 Russian teenager Varvara Karaulova arrived in Moscow from Turkey, where she was caught allegedly en route to Syria to join the Islamic State. The girl will be questioned by Russian police, who will decide whether to open a criminal case against her.
The 19-year old touched down in Moscow after flying from Istanbul on Thursday. Russian diplomats in Turkey have stressed that the girl was not deported from the country: "This isn't about deportation. She will simply return to Russia," a Russian embassy spokesperson in Turkey, Igor Mityakov said.
Varvara was detained by the Turkish authorities in the south-central Turkish city of Kilis near the border with Syria last week, when she allegedly tried to cross the border along with another 13 Russians, including six children. The group is believed to have been on their way to join the Islamic State (IS, formerly ISIS/ISIL).
'#ISIS recruit' Moscow philosophy student was among 13 Russians on their way to Syria http://t.co/dPb8dLAiMxpic.twitter.com/t0nkODzd3X

— RT (@RT_com) June 6, 2015
At a Turkish airport on Thursday, the girl wore clothes covering her whole body, and was hiding her face under a headscarf. According to the girl's father, Pavel Karaulov, the student at Moscow State University's philosophy department, went missing in late May after having developed a keen interest in Islam.
READ MORE: Australian woman abandons kids to live with ISIS
"I am going to prove that she is not a criminal, but a victim. Our family has a lawyer. I think she has had no understanding of where she was going. She didn't have any criminal intent," Pavel Karaulov said, as quoted by RIA Novosti.
After meeting his daughter for the first time after she was detained in Turkey, Karaulov said she had been crying and wanted to go home. "The child who is subject to heavy psychological pressure can and should count on understanding," he told RT, adding that his daughter has suffered "a psychological trauma."
Karaulov also told RT that although his daughter had lost some weight and "her eyes looked very sad," she was otherwise healthy. "A medical examination has been conducted, the findings were normal, no substances have been found," he told RT.
READ MORE: 'She wants to go home': Father of Russian 'ISIS recruit' to RT after meeting 19yo daughter
Although her family believes the girl is innocent, she will be taken to Moscow's Investigative Committee to be questioned by police. No criminal case has been opened, but spokesman Vladimir Markin said a number of facts needed to be checked. If found guilty of intentionally joining IS, a person faces from five to ten years in prison, and a fine of up to 500,000 rubles (around $9,000), Markin said.
"I am sure in this case Varvara is a complainant, as there are obvious signs that she has suffered both physical and psychological pressure," lawyer Aleksandr Karabanov told journalists, adding that the girl's passport has been taken away from her.
'A pattern of professional recruiters' work' – Father of Russian 'ISIS' girl talks to RT http://t.co/MWadZCi6xQpic.twitter.com/2AddyqMxmY

— RT (@RT_com) June 6, 2015
Having called the operation to find Karaulova "unprecedented," the lawyer said the girl could have been lost forever "within hours," if she had managed to cross the border into Syria.
Russian diplomats in Turkey are now trying to get access to other Russians who have been detained on the border and have been suspected of having links with IS.
READ MORE: ISIS building online 'cult with wicked motive' – counter terror chief
"Of course it worries us. It should worry everyone, as people fighting in the Middle East, also in the ranks of ISIL, are European, from the US and other [foreign] states citizens," Russia's Foreign Minister Sergey Lavrov mentioned.
Lavrov added that a joint strategy should be worked out to fight the IS threat and its recruitment of foreign citizens.
READ MORE: Iraqi army stands 'no chance' if ISIS continues intl recruitment & brainwashing
"To effectively fight the terrorist threat, including the IS threat, a true universal joining of efforts is necessary, which will be based on international law and include the role of UN Security Council," the Russian Foreign Minister said. "Such efforts should be based on partnership links, including intelligence ones," Lavrov concluded.
You can share this story on social media: