'She wants to go home': Father of Russian 'ISIS recruit' to RT after meeting 19yo daughter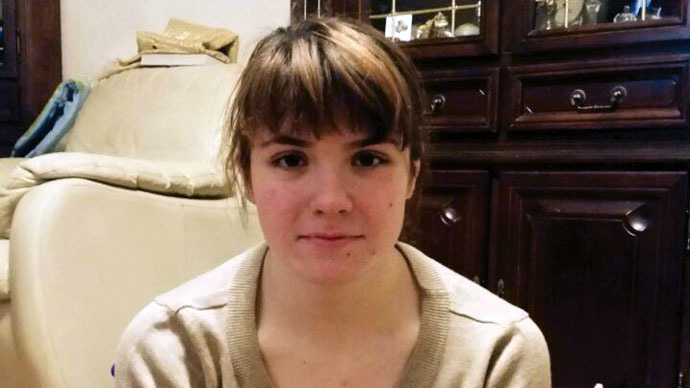 A Russian teenage girl, who had been caught in Turkey on her way to Syria, is awaiting deportation to Russia. The father of the suspected Islamic State (IS) recruit spoke to RT after seeing his daughter for the first time since she ran away.
"We met warmly, we hugged and kissed. The first thing she asked me was, 'Daddy, when will you get me out of here? When will we go home?" Pavel Karaulov, father of Varvara Karaulova told RT.
The father said that the he was only able to exchange "I love you" phrases with Varvara, as their meeting was limited to five minutes according to the Turkish procedural rule.
READ MORE: 'A pattern of professional recruiters' work' – Father of Russian 'ISIS' girl talks to RT
"The most important thing was to make sure that Varvara's health is alright, that she feels good, that she's is kept in normal conditions," Pavel told RT. He also wanted to make sure that his daughter has everything she needs.
The 19-year-old appeared to have lost some weight, but the medical examination proved she was in good health. "Varvara is a very brave person. She did not complain. On the contrary, she requested medical staff to treat the children first," Pavel said.
The father says Turkey is finalizing the investigation and he hopes that the authorities will allow his daughter to leave the country with him, "without deportation." He also hopes that Turkey will "not press any charges," added that he is optimistic that Varvara could be released by the end of the week, if everything goes to plan.
For now, Pavel says, the "most important" thing was to get reassurance from Varvara that she does want to go home. "She is crying… The child who is subject to heavy psychological pressure can and should count on understanding," he told RT.
READ MORE: 'ISIS recruit' Moscow philosophy student was among 13 Russians on their way to Syria
Karaulov says his family will offer his daughter all the support she needs: "This is a psychological trauma. We have to live through it together, possibly with the help from specialists."
The girl fled home at the end of May and booked a one-way flight to Istanbul. After an international search was launched for several days, she was detained at the Turkey-Syrian border on suspicion she wanted to cross over and join IS.
Before her escape, investigators said there were signs the girl could have been radicalized. Varvara stopped wearing a cross and even put on a hijab as she attended university. However, her father says there was not any solid evidence that his daughter wanted to link-up with IS.
Russian Security Council Secretary Nikolay Patrushev warned that IS and other jihadi groups are actively trying to recruit teens not only from the West but also from Russia and the former Soviet republics and are "focusing their efforts on national minorities."
"In these circumstances, special service and law enforcement agencies around the world need to strengthen their joint action to curb the work of recruiters and citizens' traveling abroad where terrorist organizations remain active," Patrushev told Interfax.
You can share this story on social media: