Erdogan blasts West for destabilizing Syria by supporting Kurdish 'terrorists'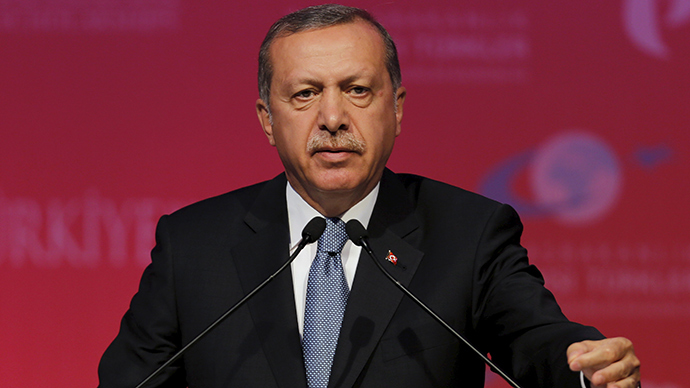 Turkish President Recep Tayyip Erdogan has accused the West of destabilizing Syria by supporting Kurdish "terrorist groups," while bombing Arabs and Turkmens.
The impassioned remarks were made in Erdogan's first appearance since the general election. He called on all political parties to act "responsibly" in forming a coalition government, after his Justice and Development Party (AKP) lost its parliamentary majority at the polls on June 7.
"The West, which has shot Arabs and Turkmens, is unfortunately placing the PYD (the political wing of the YPG) and PKK in lieu of them," Erdogan said in a speech at the Ankara chamber of commerce.
The Kurds have a strong presence in Syria, Iraq and Turkey and have proved a formidable enemy to Islamic State (IS), earning international backing for standing up to extremists.
On the other hand, the ethnic group has been historically locked in a fierce struggle of wills with Turkey over its status as a nation.
Meanwhile the Kurdish-linked People's Democratic Party (HDP) has for the first time managed to get into the Turkish parliament.
READ MORE: Turkish govt resigns, Erdogan seeks to form 1st coalition after 12 yrs majority rule
This is a difficult situation for Erdogan, who is a US ally on the one hand, but has been showing very negative attitudes toward the Kurdish People's Protection Units (YPG) forces, which the US has been trying to aid in the fight against IS.
The Turkish leader is uncomfortable with the military gains made by the Kurds in Syria, alleging their links to the Kurdistan Workers' Party (PKK), whom he's called "terrorists" on multiple occasions, and who have been fighting the Turkish government in an insurgency lasting more than 37 years.
While delivering the remark, Erdogan has used the opportunity to again strike at the perceived ineffectiveness of the US-led air-strike campaign against IS terrorists.
On Thursday Turkey said it was taking measures to limit the influx of Syrian refugees whose numbers soared recently due to fighting between Kurdish forces and jihadists.
Over the last week, 7,000 refugees had fled to Turkey and another 6,600 had joined them since Wednesday, a Turkish official told AFP.
"Turkey will not accept entries onto its territory from Syria except in case of a humanitarian tragedy," Deputy Prime Minister Numan Kurtulmus said after visiting the Akcakale border crossing on Wednesday.
Kurtulmus also reaffirmed Ankara's anger against EU nation's which have accepted only a small portion of Syrian refugees as opposed to Turkey which has taken over 1.8 million Syrian refuges since the start of the conflict in 2011.
You can share this story on social media: