Car, truck collide, cause explosion on Russian road (VIDEO)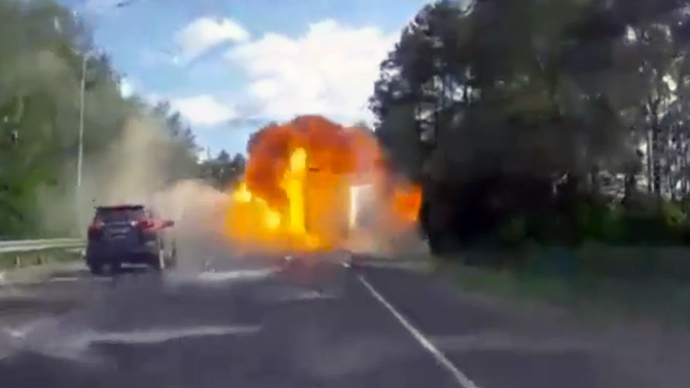 A collision of a truck with a Nissan car resulted in a massive explosion on a Russian highway killing both drivers. The vehicles were literally blown apart.
The accident happened near Moscow on Tuesday. The 38-year-old driver of the Nissan apparently lost control, veered into oncoming traffic and collided head on with a DAF Truck, according to reports in local press and social media. The collision was so strong that the truck rolled over, hitting a tree and stopped in a roadside trench.
The Nissan hit the truck's fuel tank, which caused a huge blast. About 500 liters of diesel fuel poured on the road and a massive fire started.
READ MORE: 40,000 liters of oil spilled in 50-vehicle pile-up in southern Canada

Witnesses tried to extinguish the fire, but couldn't control it. Both drivers – in the car and in the truck – were killed. The latter was burnt alive before firefighters arrived, reports say.
READ MORE: Dozens of cars crash in snowy pileup on Maine interstate (VIDEO, PHOTOS)