Turkey cop sentenced to plant 600 trees for teargasing 'Lady in red' during Gezi Park protests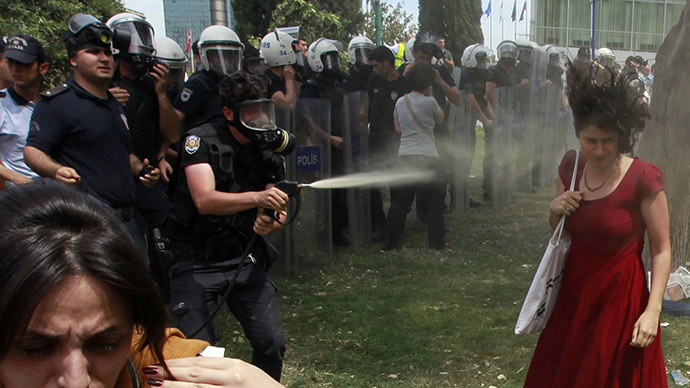 A Turkish policeman, whose tear gas attack on a woman in a red dress became a symbol during anti-government uprising in 2013, has been found guilty of misconduct. The court handed him a suspended sentence and ordered him to plant 600 trees.
The Istanbul court sentenced police officer Fatih Zengin to 20 months in jail, which he will serve only in case of a repeated offence in the next five years, Reuters reported on Wednesday. The officer will also have to plant 600 trees as community service – and will be responsible for them during first six months after their planting.
RT @AlMonitor Policeman accused of spraying "Lady in Red" during May 2013 protests in #Taksim Sq. has been indicted pic.twitter.com/U5MUhxLAeb

— Roshanak Taghavi (@Roshanakt) January 17, 2014
Ceyda Sungur, the "lady in red" with her hair blown by a flow of the tear gas targeting her face, became an icon of the anti-government protests that sparked by a plan to redevelop the Gezi Park in central Istanbul two years ago. Her image went viral on social media and was quite common on posters and stickers at the protests that flooded the whole country.
'Lady in red' #gassed by Turkish policeman became an #icon of #Gezi protests and popular photo object in park now pic.twitter.com/pK9wNWr0Hy

— Marc Guillet (@Turkeyreport) June 8, 2013
Zengin was accused of using excessive force, and prosecutors demanded a three-year term of imprisonment. The final sentence seems to be ironic, as the government eventually dismissed the protests, which were initial a reaction against a plan to remove the Gezi Park greenspace, with the words that they had "nothing to do with trees" anymore.
In the wave of demonstrations that were marked by repeated clashes with riot police, eleven people were killed and over 8,000 were injured.