'Good sex starts at the table': Italian food lowers risk of impotence, professor says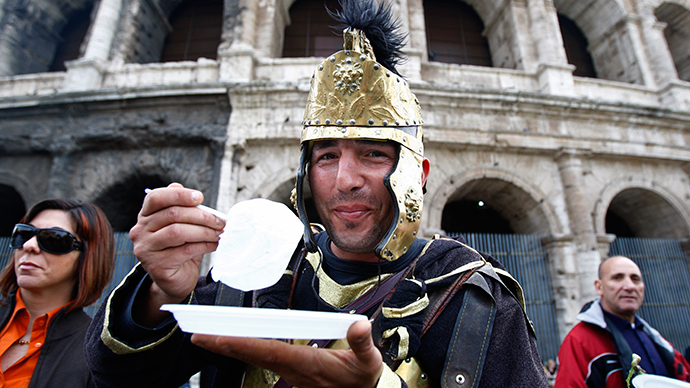 Italian men are known to be great lovers, and their success in the bedroom could be as simple as the food they eat. In fact, one professor claims the Italian diet can solve sexual dysfunction. It's enough to have any man running for a plate of spaghetti.
The physical perks of pizza and pasta were concluded at the 21st National Italian Congress of Andrology (men's health) in Naples on Monday, La Stampa reported.
READ MORE: Pentagon dropped over $500,000 on Viagra last year
"Following a strict Italian diet can solve sexual dysfunction," said Professor Giorgio Franco, president of the Italian Society of Andrology.
He added that "followers of a Mediterranean diet have a lower risk of impotence."
While the claims may seem a bit wacky, Franco may actually be onto something.
Italy has one of the lowest rates of erectile dysfunction in Europe, affecting only three million men in the country. Comparatively, the UK's National Health Service (NHS) estimates the condition affects half of all men between 40 and 70 in Britain.
"Good sex starts at the table," added Franco. "Statistics show that Italian people eat well. Our obesity rate is one of the lowest in the developed world."
Italy's diet is based on simple, fresh foods which are low in fat. It is high in essential omega 3 fatty acids, which keep cholesterol levels balanced.
READ MORE: 'Cheating on me with Twitter!' Smartphone ruining sex lives, study suggests
The findings align with a study released last year, which concluded that Italian men are the best lovers. Conducted by the drug company Menarini, the research found that Italian men are most satisfied with their love lives, and expect sex to last significantly longer than other Europeans.
However, those suffering from sexual dysfunction in Italy don't always rely on diet as a magical fix. They have increasingly turned to the pill 'Avanafil,' a drug developed in Italy. Sales of the pill have boomed since it was launched in 2012, due to its fast-acting results.
You can share this story on social media: