'Smattering of unfunded initiatives': Charities accuse G7 of having failed world's poor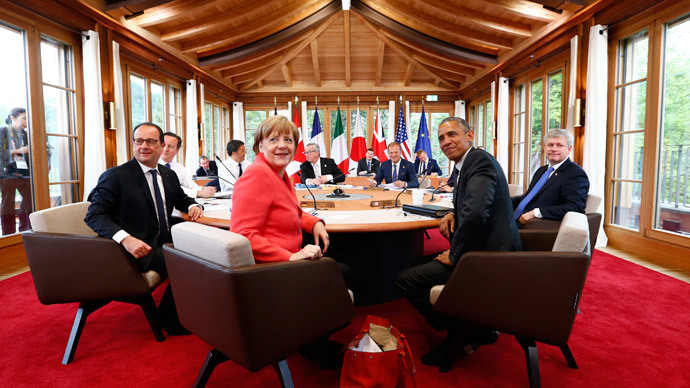 The G7 Group of industrialized nations has missed an opportunity to help the world's most vulnerable children and has "copped out of delivering any real change," major global charities said on Monday.
The international aid agency Oxfam mentioned that the pledge made by the G7 to ensure that 500 million people no longer suffered from malnutrition and hunger was not matched by any serious commitment concerning funds or realistic targets, Reuters reports.
"They are offering a smattering of largely unfunded initiatives to tackle the huge global challenges of hunger, inequality, and disease. This is a slap in the face for millions of people who don't have enough to eat or who can't afford to pay for vital healthcare," said Jorn Kalinski, Oxfam's G7 spokesman, in a statement.
READ MORE: G7 to impose more sanctions on Russia if Ukraine conflict continues
New goals concerning international development are due to be adopted by the United Nations in September. Many aid agencies tried to use the G7 meeting to lobby world leaders for the critical resources needed to tackle problems in the developing world.
The humanitarian aid organization, World Vision said the summit, held in Bavaria Germany, did little to help the most desperate children, especially those living in conflict zones and that the actions announced, amounted to "putting band-aids on symptoms."
"We came into this year's meeting calling for tangible commitments for the world's most vulnerable children and despite addressing issues like hunger and immunization, it was nowhere near as ambitious as we would have hoped for," said Geeta Bandi-Phillips of World Vision UK, as cited by Reuters.
"The G7 leaders missed an opportunity to lead the way for the future of children, especially those living with the effects of war and conflicts, and dying from easily preventable causes," she added.
Save the Children said before the summit got underway, that the survival of 17,000 children and 800 mothers is at risk every day unless money is found to end preventable deaths.The charity says that around 6.3 million children under the age of five and 289,000 women die from complications arising from childbirth and preventable diseases every year.