Saudi airstrikes kill 44, including 20 civilians, in Yemen's capital - reports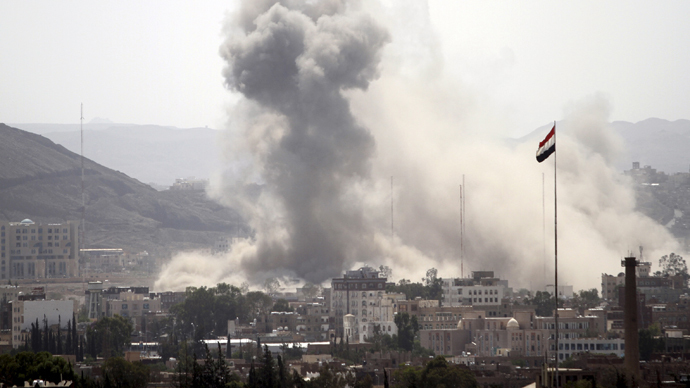 At least 44 people have been killed in airstrikes by the Saudi-led military coalition in Yemen's capital, Sana'a, according to the Houthi-run news agency Saba.
"More than 44 citizens were martyred and 100 others including women and children, according to preliminary figures," the agency initially reported. Later figures from a Health Ministry official suggest there were at least 180 people wounded.
Among the dead there were at least 20 civilians, according to a medic working at the scene cited by AFP. Civilians from buildings near the strikes' target also reportedly comprised most of those injured.
The attacks hit a Houthi rebel military headquarters. The Saudi-led military conducted four airstrikes in the early morning hours, and the casualty count was initially reported as much lower than the above figures.
The attack comes a day after the Houthis launched a Scud missile into Saudi Arabian territory. The missile was intercepted, Saudi media reported.
READ MORE: Israeli weapons, US base plans found in Sanaa Saudi embassy - report
Saudi Arabia and its Sunni allies have been bombing Yemen for more than two months now. The Saudi-led forces are targeting Shia Houthi rebels who captured the presidential palace in Sanaa in September, forcing President Abd Rabbuh Mansour Hadi to flee the country. He has been in Saudi Arabia since.
The UN estimates that the conflict has claimed over 2,300 lives, including more than 1,000 civilians killed in the Saudi-led airstrikes. It has displaced more than 1 million people, and led to a massive humanitarian crisis.
The latest airstrike comes after Houthi leaders and exiled Yemeni officials agreed to attend a UN-brokered peace conference in Geneva, which has been preliminarily scheduled for mid-June. The talks will attempt to secure a ceasefire and increase humanitarian aid deliveries.