Scientists find link between brain & immune system to fight Alzheimer's, autism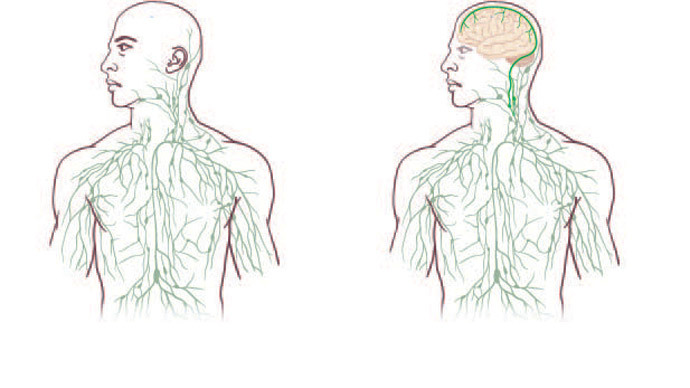 A major discovery by US researchers – previously unidentified vessels that directly connect the brain with the immune system – could aid in studying and finding treatment to such neurological diseases, as autism, multiple sclerosis, or Alzheimer's.
READ MORE: World's first biolimb: Scientists create living, functioning rat leg
"Overturning decades of textbook teaching" with a breakthrough in human body mapping, researchers at the University of Virginia School of Medicine have identified vessels in the lymphatic system that were previously not thought to exist. The results of their work have recently been published in the journal Nature.
"Instead of asking, 'How do we study the immune response of the brain?' 'Why do multiple sclerosis patients have the immune attacks?' now we can approach this mechanistically. Because the brain is like every other tissue connected to the peripheral immune system through meningeal lymphatic vessels," said the study's lead author Jonathan Kipnis in the press release. "It changes entirely the way we perceive the neuro-immune interaction. We always perceived it before as something esoteric that can't be studied. But now we can ask mechanistic questions."
READ MORE: Poor sleep could increase risk of developing Alzheimer's – study
"We believe that for every neurological disease that has an immune component to it, these vessels may play a major role," Kipnis added. "Hard to imagine that these vessels would not be involved in a [neurological] disease with an immune component."
A postdoctoral fellow in Kipnis' lab, Antoine Louveau worked on the mouse brain, studying meninges – the membranes within the skull cup. He noticed vessel-like patterns and found out that they belonged to the lymphatic system.
Kipnis described them as "very well hidden". "It's so close to the blood vessel, you just miss it," he said. "If you don't know what you're after, you just miss it."
READ MORE: Neurons for Algernon: Scientists restore memories in amnesic mice, hope to help humans
Now the scientists can suggest theories explaining complex brain diseases. "In Alzheimer's, there are accumulations of big protein chunks in the brain," Kipnis said. "We think they may be accumulating in the brain because they're not being efficiently removed by these vessels."
According to the team, the discovery could completely change our views on neuro-immune interaction by linking mental health with the state of the immune system.
"The connections described are between the coverings of the brain and the immune system, rather than the brain itself and the immune system. The methodology is very impressive, but the findings need to be interpreted with caution in the context of diseases affecting the brain tissue itself," Roxana Carare, an associate professor of cerebrovascular ageing at the University of Southampton, told the Guardian.
You can share this story on social media: