Moscow 'closely looks' into reported US plans to return medium-range missiles to Europe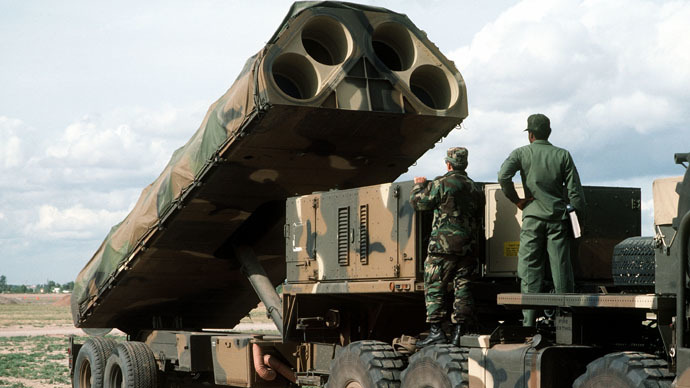 The Pentagon is considering scrapping a Cold War-era treaty and deploying nuclear-capable intermediate-range cruise missiles in Europe over Moscow's alleged treaty violations, AP reported. The Kremlin says it is looking closely into the report.
The US administration is mulling deploying medium-range missiles in Europe and Asia that would be potentially capable of destroying military targets within Russian territory, the Associated Press reports. The news agency is citing an unclassified portion of a report written by the office of General Martin Dempsey, chairman of the US Joint Chiefs of Staff.
The report names four potential weapons that "could assist in closing ... a capability gap" in case the 1987 Intermediate-range Nuclear Forces (INF) treaty, which prohibits the possession of 500-5,500 kilometer medium range missiles by the US and Russia, is scrapped.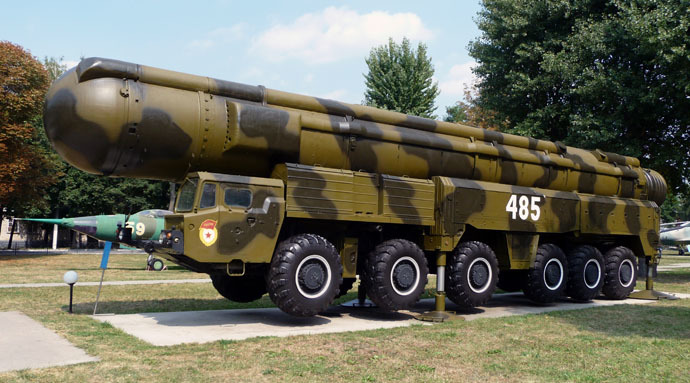 Such measures could imply the deployment of ground-launched cruise missiles systems in Europe or Asia, as well as the deployment of ground-launched intermediate-range ballistic missiles equipped with warheads with adjustable trajectory.
Moscow will carefully analyze media reports about the Pentagon's possible missile deployments in Europe before gauging the news, Kremlin spokesman Dmitry Peskov told journalists.
The news recalls to memory the worst pages of the Cold War, when in the 1980s the US deployed Pershing-2 ballistic missiles to Europe and the Soviet Union countered by deploying SS-20 Pioneer ballistic missiles, AP reports.
The Obama administration has been accusing Moscow of violating the INF treaty, alleging that a newly developed cruise missile violates the INF treaty.
#NATO activity near Russian borders increased by 80% – General Staff http://t.co/xVmMnUHgIVpic.twitter.com/Lw47UaY5jW

— RT (@RT_com) April 17, 2015
The accusations were first voiced last summer, when President Barack Obama sent a letter to Vladimir Putin, in which Russia was accused of testing a surface-to-surface cruise missile with an excessive range, violating a 1987 INF Treaty banning short- and medium-range ballistic and cruise missiles.
READ MORE: US accuses Russia of nuke treaty breach... but has it?
US claims and allegations, including the accusation that Russia violated the INF nuclear weapons treaty, are part of an anti-Russian campaign launched amid the Ukraine crisis, Deputy Defense Minister Anatoly Antonov told RT last August.
"A massive wave of US claims and allegations is part of the anti-Russian campaign unleashed by Washington in connection with the Ukraine crisis. And the US is ready to exploit any means to discredit Russia," Antonov said.
US nuke accusations 'part of infowar set to discredit Russia' over #Ukraine crisis http://t.co/ft45M9sOCv

— RT (@RT_com) August 13, 2014
The first to speak out about potential redeployment of the US ground-launched cruise missiles in Europe was another Pentagon official, Brian McKeon, who shared his opinion in December 2014, saying that the primary aim is to make sure that "Russia gains no significant military advantage from its violation."
Moscow warned that possible redeployment of US nuclear cruise missiles to Europe and other military steps mentioned by a US official over Russia's alleged violation of a crucial arms control treaty won't add to US security, but will increase tension.
READ MORE: Redeployment of nukes to Europe won't increase US security – Moscow
Half a year later, Washington's wording has not changed much.
"All the options under consideration are designed to ensure that Russia gains no significant military advantage from their violation," said Pentagon's spokesman, Lt. Col. Joe Sowers, as cited by the AP.
So far Washington has not brought in any proof that medium-range ground-based missile has actually been deployed.
Meanwhile, Moscow is accusing Washington of violating the treaty by deploying its anti-missile shield in Europe. In particular, the Russian Foreign Ministry said that Russia has repeatedly raised concerns over US short-range missiles being used for target practice, drones and the MK-41 Vertical Launching Systems which the US is planning to deploy in Poland and Romania.
"The Americans started this process in 2001, by unilaterally withdrawing from the ABM treaty. Now it is aggravated by a rapid and unlimited build-up of the US global missile defense system, an unwillingness to clean up the territory of other states from the US tactical nuclear arsenal deployed there, elaboration of a provocative strategy of Prompt Global Strike, and an excessive build-up of conventional weapons, including their offensive components," it said.
'Lies, hypocrisy, propaganda': Russia slams US over claims of nuclear treaty violations http://t.co/jtXCMs3xNWpic.twitter.com/sI0Ma8Ix7K

— RT (@RT_com) August 2, 2014
US Defense Secretary Ashley Carter said that he has plans to discuss regional nuclear force issues with American defense and diplomatic officials in Germany on Friday.
In April, Carter's nuclear policy aide Robert Scher specified that putting up a "counterforce" to the missile allegedly violating the INF treaty effectively means that the US "could go about and actually attack that missile where it is in Russia."
Scher also mentioned that "simply attacking" the alleged Russian missile is not enough, but should actually include consideration of "what things we can hold at risk within Russia itself."
The State Department's top arms control official, Rose Gottemoeller, at the same time argued against declaring the INF treaty dead. While calling the alleged Russian violations a "very grave concern," Gottemoeller stressed that America's allies in Europe are opposed to that approach.
You can share this story on social media: