Best boss game? Chinese company covers Dutch vacation for 4,500 employees
Published time: 3 Jun, 2015 03:48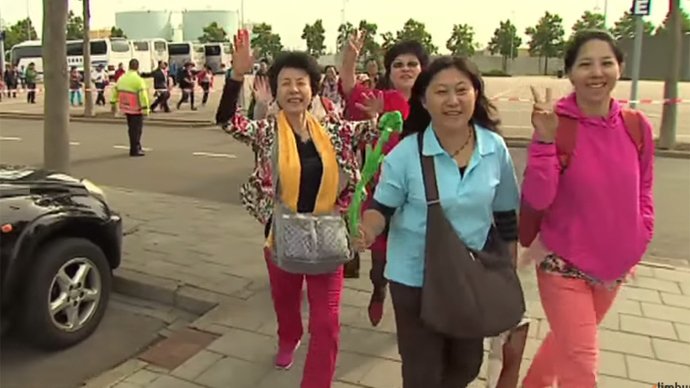 Company-sponsored vacations for thousands of staff are booming in popularity in China, as a third company steps up to cover the costs of 4,500 workers in just one month. This time, the wave of tourists visited the Netherlands.
The five-day trip was paid for by the executives of the Chinese cosmetics company Perfect. Ninety buses were reportedly rented to transport all of the employees around the country.
Een bedrijfsuitje voor 4500 Chinezen. Ze zijn de komende dagen in Nederland: http://t.co/ZvUNMUaD7ipic.twitter.com/Pk6lhpaJNF

— NOS (@NOS) May 29, 2015
This was the biggest group visit to the country ever, according to Dutch media.
READ MORE: Chinese boss pays for 6,400 employees to go on luxury French vacation
The Chinese tourists were shown around the cities and countryside, spending a total of $7.7 million. They also visited the Hoge Veluwe National Park, shopping centers and the congress centre in Utrecht.
Bedrijfsuitje van 4500 Chinezen levert 8 miljoen euro op http://t.co/u5x940GZjo@roelanschroor@JIHdeHaan@LWD2018pic.twitter.com/vMuNxTFe1B

— Micha Busch (@michabusch) June 2, 2015
The group was so large for Holland that it had to be split up and distributed across the country, with employees staying in different cities, including Amsterdam, The Hague, Delft, Rotterdam, and Utrecht.
Local media reported that the tourists preferred to eat out at Chinese restaurants, foregoing the local Dutch cuisine. "They seem to enjoy Chinese food the most," the Dutch Tourism Bureau (NBTC) said.
The local economy is projected to make anywhere from $8 million to $9 million from the visit, NBTC added.
"The 4,500 tourists will be spreading the word about Holland as a holiday destination by sharing their positive experiences, holiday pictures and souvenirs with their friends and family," the ministry said. "It will put Holland on the map as an attractive place to spend your vacation for other Chinese as well."
#nieuws: Bedrijfsuitje van 4500 Chinezen in Gouda http://t.co/sYFZKl64vV#Goudapic.twitter.com/fsRMwhRDcT

— GoudaFM (@GoudaFM) June 2, 2015
Minister of Economy Henk Kamp greeted the Chinese company's top executives upon arrival, expressing gratitude for choosing the Netherlands as their destination.
Last year more than 250,000 Chinese citizens visited Holland, spending on average $1,395 per person. The total number of visitors is projected to triple in the next few years, according to NBTC.
4500 Chinezen ontdekken de komende dagen Nederland. Minister Kamp ontving vanmorgen een delegatie in het Mauritshuis. pic.twitter.com/nHelrj5h5t

— Mauritshuis (@mauritshuis) May 29, 2015
This trip follows two other mass vacations organized earlier in May. One of them was set up by the Chinese billionaire and head of Tiens Group Company, Li Jinyuan, who shelled out for an all-expense-paid four-day corporate trip to France for 6,400 of his employees to celebrate the firm's 20-year anniversary.
160 koks voor 4500 Chinezen http://t.co/PAr0EXijfppic.twitter.com/IBsgp9RzXO

— De Telegraaf ticker (@telegraafticker) May 30, 2015
The second involved a Chinese company Infinitus (China), which paid for a six-night vacation in Thailand for 12,700 of its staff. For that trip, a total of 110 flights were booked and 400 buses employed.