Supersonic entry: NASA's 'flying saucer' to get second test drive
Published time: 2 Jun, 2015 03:53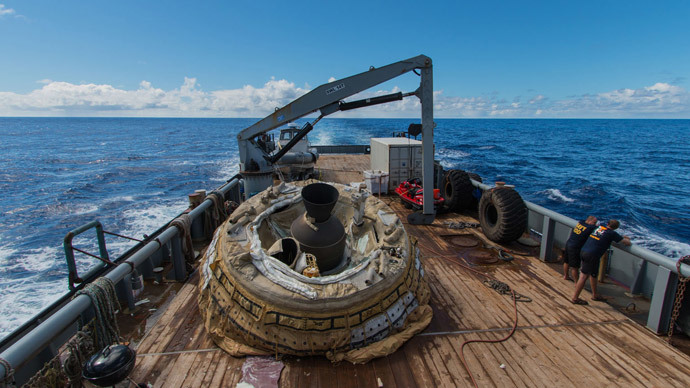 NASA is expecting to get closer to landing the first humans on Mars on Tuesday by launching the second test flight of its peculiar "Low Density Supersonic Decelerator" (LDSD) technology, known simply as a 'flying saucer.'
"The test, performed over the Pacific Ocean, will simulate the supersonic entry and descent speeds at which the spacecraft would be traveling through the Martian atmosphere," according to NASA, which is working to meet its deadline of a Martian landing by 2035.
The flight test will be launched from the US Navy's Pacific Missile Range Facility on Kauai, Hawaii. It is scheduled to begin at approximately 9:30 pm GST (10:30 am PDT) on Tuesday, June 2.
READ MORE: 'Bad chute' sours NASA 'flying saucer' test launch (VIDEO)
The technology explores a new way of slowing down spacecraft once it enters the Martian atmosphere. "NASA's LDSD project is designed to investigate and test breakthrough technologies for landing future robotic and human Mars missions and safely returning large payloads to Earth," NASA said.
"Right now we are at the technological limits of what we can land on Mars in terms of size and weight. This is all we can do with the current technology," associate administrator of NASA's Space Technology Mission Directorate Steve Jurczyk told reporters on Monday. "This technology is required to land five metric tons for human missions, maybe 30 and beyond metric tons to the surface."
The currently employed landing technology has been in use since the 1960s-70s and was used to help the Curiosity rover land on Mars in 2012.
The latest prototype is made up of two elements: a flying saucer body and an inflatable tube called the Supersonic Inflatable Aerodynamic Decelerator (SIAD).
During the first try about a year ago, the spacecraft was lifted 50 kilometers (30 miles) up into the air by a huge balloon and then accelerated to supersonic speeds by a rocket motor.
READ MORE: NASA testing 'flying saucer' Mars lander
Then an inflatable tube around the vehicle, made from the same material as bulletproof vests, expanded to slow it from Mach 4 (four times the speed of sound) to Mach 2.5. The next stage was the deployment of a gigantic parachute, 33 meters in diameter, but it ripped apart as soon as it opened.
"We saw things that we've never seen or imagined existed before," LDSD lead researcher Ian Clark told reporters on Monday, referring to the first test. "We saw a much more dynamic and much more turbulent parachute inflation than we had ever known … things like the suspension lines exploding like lightning, moving in a very chaotic manner all over the place."
For the second test, NASA has reinvented the LDSD's faulty parachute. The new model has a new shape, is bigger, and has been reinforced to withstand any tears.
"We learned a great deal from last year's flight test. We've used that knowledge to improve the design and manufacturing of the hardware," Jurczyk said. "This year I'm cautiously optimistic that we'll have a fully successful flight test."