KFC squawks & sues China firms over fake 'eight-legged chicken' stories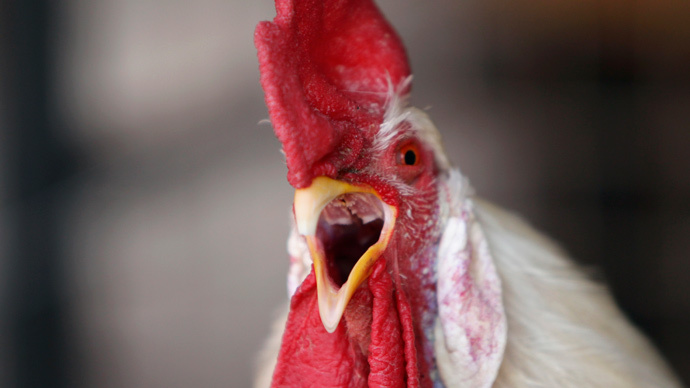 Fast food restaurant chain KFC filed a lawsuit against three companies in China on Monday, who have allegedly spread untruths online. KFC said its competitors claim the American food giant has used eight-legged GM chickens.
The three firms in China allegedly used social media accounts to spread fake stories about the food used by KFC (Kentucky Fried Chicken), the company said in a statement posted on its Chinese website on Monday.
This is the new KFC menu in China pic.twitter.com/cqeh24Vy3n

— Brian Sozzi (@BrianSozzi) May 27, 2015
KFC specializes in fried chicken and is China's biggest restaurant operator with over 4,600 restaurants. It claimed one of the prevalent fake stories was about its chicken being genetically modified. Rumors had it that GM chickens used by KFC had six wings and eight legs, the company said.
READ MORE: Food scare: British health secretary demands urgent inspections of two UK chicken factories
The companies operated accounts on the popular mobile phone app WeChat. KFC is now seeking an immediate stop to their infringements, and demands 1.5 million yuan ($242,000) and an apology from each of the three competitors, AP reported. The case was accepted by Shanghai Xuhui District People's Court, the agency added, citing a press officer.
READ MORE: McDonald's Japan halts Chinese supplies after rotten meat scandal
The case filed by KFC comes amid the Chinese government's efforts to help companies quash malevolent rumors on social media. The campaign targets internet marketers who try to manipulate public opinion by deleting critical posts, or spreading false information about competing firms online on behalf of their clients.
Ewww. Worms in chicken served at KFC China. Outlet ransacked. (as received on WhatsApp, date and source unknown) pic.twitter.com/53ITB59aVb

— Khanicles (@MushtaqKhan) May 17, 2015
KFC's China CEO praised the authorities' "stepped-up efforts... to purify the online environment," saying the government clean-up has "offered us confidence and weapons," Qu Cuirong said in a statement, as cited by AP.
You can share this story on social media: