Two ISIS filmmakers killed in Iraqi airstrikes – reports
Published time: 31 May, 2015 19:43
Edited time: 31 May, 2015 20:16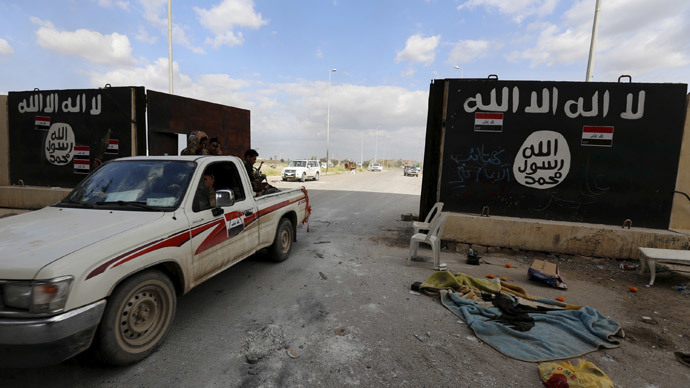 Two filmmakers who make videos for Islamic State (IS) militants have been killed in an air strike in Iraq, according to Arabic news outlets citing the Ministry of the Interior.
The Iraqi air force's airstrikes targeted an IS (Islamic State, formerly ISIS/ISIL) compound in the city of Qaim, near Fallujah, west of Anbar province, "after following the leadership's (ISIS) meetings in a complex reconnaissance operation," the ministry's communiqué stated on Sunday as quoted by Al Jazeera and Al-Arabiya.
As a result 28 jihadists were killed, among whom reportedly were Abu Mohammed al-Soory, nicknamed Abu Samra – an IS filmmaking expert, and Abu Osama al-Amriky – a documentary specialist, the ministry said. It added that among those killed allegedly were also an explosives expert, the chief of IS's charity foundation and chief of the suicide bomber operations.
The airstrike was part of a military 'revenge' operation Mustafa Al Sebhawy, named after an Iraqi soldier the IS militants captured wounded and hung on a bridge in Fallujah.
READ MORE: Appalling ISIS video shows ancient Assyrian city of Nimrud being razed to ground
In addition to the air strikes led by the Iraqi forces, the US began its bombing campaign in Iraq in August 2014. Russia has showed support saying it is ready to supply weapons to Iraq to aid the fight against IS advance in the region.
The militants have seized vast territories in northern Syria and Iraq, declaring them an Islamic State caliphate in 2014. Their supporters have retained locations in certain regions in Libya, Afghanistan and Yemen.
IS propaganda videos posted include beheadings of captive civilians, who are said to have been executed in hundreds in militant-controlled areas of Syria and Iraq. The group has performed executions of Jordanian, Japanese, American, British, French, Egyptian and Yemeni hostages, which were filmed and published on social media.
IS has also posted videos showing them destroying world heritage monuments such as the ancient Assyrian city of Nimrud, a UNESCO cultural site, the ancient city of Hatra and artifacts in the museum in the northern Iraqi city of Mosul.
The jihadists use videos to threaten their targets. Among the latest was a video in which they warned of an attack similar to 9/11, promising to "burn America" and threatened US nationals around the world.