​Japan military may support foreign forces abroad for first time in 70 years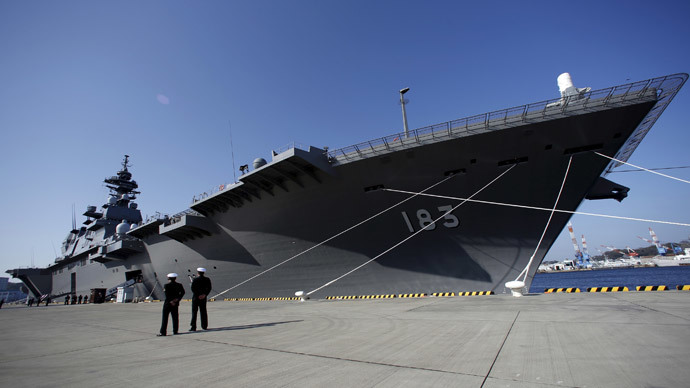 Japan does not rule out sending its military to provide logistics support to the forces of the US or other allied countries, Japanese Prime Minister Shinzo Abe said.
Abe spoke at a meeting of a special security committee in Japan's lower house of parliament discussing a new bill regarding the expansion of the authority of Japan's armed forces. The bill, which is now being reviewed in the country's parliament, will allow Japanese forces to get involved in military action abroad.
READ MORE: Japan to join US-Aussie military drills in July
Since Japan's defeat in World War II, its military was limited to acting only in so-called emergency circumstances within the country or its immediate neighbouring areas. The new law could allow it to deploy armed forces outside the country, to support "friendly countries," which include the US.
Under the new bill, three conditions will be required for the use of force abroad: There has to be a clear danger to survival of the nation, there are no alternative means, and the use of force must be limited to the minimum necessary level.
Abe ruled out using the bill to invade other countries together with allies. "It's clear we can't get on [foreign] land to launch an attack or stage a large-scale aerial bombing within the framework of 'the minimum necessary' level," he said on Thursday, as quoted by The Japan Times. However, he said that there would be some "exceptions" to this, like a minesweeping operation in Iran's waters.
The Prime Minister, however, did not give a clear answer on whether the situation in the South China Sea will be another "exception" or if the new law will otherwise affect it.
READ MORE: Defense to offense: China unveils new military strategy to boost naval capability
Japan, the US and their allies have been demanding that China stops construction of artificial islands in the disputed waters of South China Sea. Beijing claims most of the sea as its own, saying it is historically Chinese. The Philippines, Vietnam, Malaysia, Taiwan and Brunei also say parts of the area belong to them.
China, for its part, says the US is threatening the whole region by backing other countries with territorial claims to the sea.
"A few countries keep stirring up troubles in the South China Sea for (their) own selfish gains and provoking China's territorial sovereignty and maritime rights and interests, while there are some other people who incite them to do so." Beijing's foreign ministry spokeswoman Hua Chunying told a regular media briefing, AFP reports on Thursday.
Last week, China ordered a US Navy surveillance plane to leave the area above the disputed islands. The aircraft ignored the demand, saying it was in what Washington considers international airspace.
You can share this story on social media: