Japan to join US-Aussie military drills in July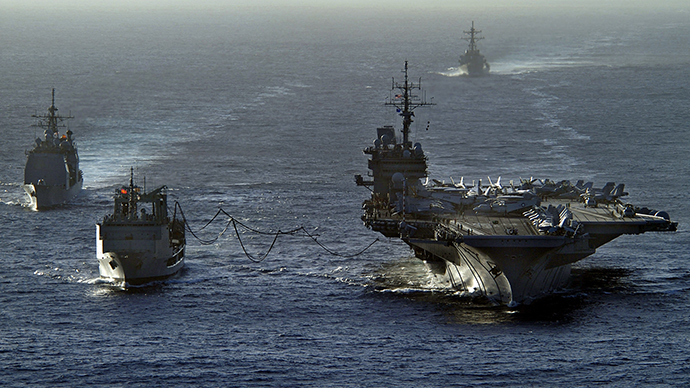 Japan will join US and Australian troops in trilateral military drills for the first time as the three states are seeking to boost ties in the region where tensions over the disputed South China Sea region rumble on.
"Japan will join a major US-Australian military exercise for the first time in a sign of growing security links between the three countries as tensions fester over China's island building in the South China Sea," according to a statement on the Talisman Sabre biennial exercises' official Facebook account.
Only 40 Japanese officers and soldiers will participate in the exercises, which overall involve about 30,000 US and Australian troops.
Japan to join US, Australia war games Japan will join a major US-Australian military exercise for the first time... http://t.co/JIhpsYxoKF

— TalismanSaber (@TalismanSaber) May 26, 2015
A spokesman from Japan's Ground Self-Defense Force (JGSDF) confirmed to AFP that the Japanese military will take part in joint exercises "with the US Marines, rather than operating directly with the Australian military."
READ MORE: Encircling China: US to sign military agreement with Australia after Philippines deal
"But our participation is seen as part of efforts" to boost defense ties between Tokyo and Canberra, he said, adding the drills will start on July 7.
Japan to join US, Australia war gamesJapan will join a major US-Australian military exercise for the first time in a...Posted by Talisman Saber on lundi 25 mai 2015
Talisman Saber involves biennial joint drills by the Australian Defense Force and the United States Military in at least six locations in northern and central Australia. This is going to be the sixth of such exercises. Previously, they took place in 2005, 2007, 2009, 2011 and 2013.
"The primary aim of the exercise remains improving Australia-US readiness and the way we operate together through combined training," Australia's Chief of Joint Operations, Vice Admiral David Johnston, said.
Japanese Defense Minister General Nakatani rejected any theories the exercises were targeted at China. Speaking to Reuters, he explained Japan simply wants to improve military cooperation with the US and Australia.
Australia and the United States are preparing for Exercise TALISMAN SABRE 2015 http://t.co/kFiFFymhJh

— TalismanSaber (@TalismanSaber) May 24, 2015
This year, Talisman Saber will also be joined by 500 military personnel from New Zealand, including ships and aircraft,
"While Exercise TALISMAN SABRE remains Australia's premier bilateral exercise with the United States, it provides an excellent opportunity for the ADF [Australian Defense Force] to practice operating with the New Zealand Defense Force and JSDF in a realistic training environment," Johnston added.
The US welcomed the cooperation between its allies in the region, saying Washington benefits as well.
"In some cases this cooperation directly benefits our work on maritime security. For example, we're cooperating trilaterally with Japan and Australia to strengthen maritime security in Southeast Asia and explore defense technology cooperation," US Assistant Secretary of Defense David Shear told Reuters.
The drills, to be held in several Australian locations, come amid growing tensions in the Pacific region, with China aiming to increase its military capability.
READ MORE: Defense to offense: China unveils new military strategy to boost naval capability
On Tuesday, Beijing unveiled a new defense strategy to boost its naval capability and said it will now shift from "territorial air defense" to both "defense and offense." Beijing also slammed its neighbors for their "provocative actions" on its "reefs and islands."
The drills also come in the midst of growing dispute with Beijing over a group of small islands. While China claims most of the South China Sea, the Philippines, Vietnam, Malaysia, Taiwan and Brunei also laying claim to parts of it.
The field training exercise (Forest Light-02) with the United States Marine Corps in Japan. http://t.co/UZf8srq3Cxpic.twitter.com/L9Mfl316cB

— JGSDF (@Japan_GSDF) February 13, 2015
A concern the three nations participating in the drills share is that China might impose air and sea restrictions in the Spratlys archipelago, should it complete construction of its seven artificial islands there.
Beijing mentioned that it has every right to install an Air Defence Identification Zone if needed.
When asked at a regular news briefing if Beijing was concerned the exercises appeared to be aimed at China, China's Foreign Ministry spokeswoman Hua Chunying said she was "not worried."
"We believe the relevant countries should all play a proactive and constructive role to strengthen mutual trust and cooperation between countries in the region," she said as cited by Reuters.
You can share this story on social media: