​Joke weapon? ISIS reveals homemade long-range sniper rifle
Published time: 28 May, 2015 20:05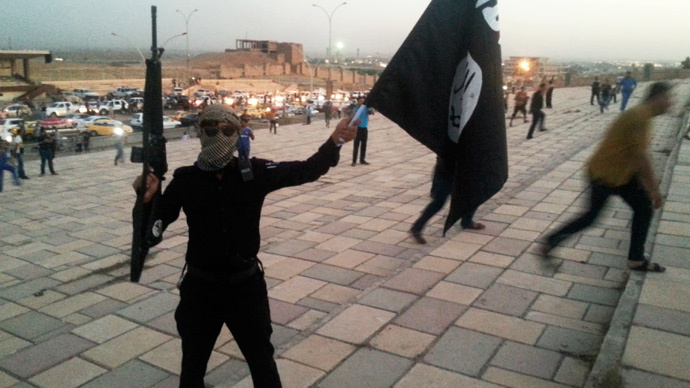 As ISIS aims to establish a 'caliphate' in the Middle East, the extremist group has unveiled its newest weapon – a homemade sniper rifle. Whether it will be useful in the battlefield remains to be seen, as experts claim it's far too heavy and inaccurate.
Newly emerged photos show an Islamic State (IS, formerly ISIS/ISIL) fighter using the long-range weapon. But the rifle appears to be missing a tripod stand – so the extremist is using a tree branch for stability.
Sniper and counter-terrorism expert Malcolm Nance told MailOnline that the rifle is a "joke weapon."
"It is not professionally made. It appears to be constructed using cheap optics and wielded together," said Nance, who is part of the Terror Asymmetrics Project on Strategy, Tactics and Radical Ideology.
Watch #ISIS First Homemade Weird #Sniper Rifle http://t.co/gWN4yGytzh hbene pic.twitter.com/ANsJvwPo2B

— Alalam (@AlalamChannel) May 28, 2015
He added that it would "smash your shoulder" if you fired it, and that it would have "no accuracy unless it is properly zeroed."
The photos come after the killings of two top IS members – including a sniper.
Iraqi Federal Police Chief Raed Shakir Jawdat confirmed on Tuesday on state television that "one of the most dangerous ISIS snipers" was killed by Iraqi forces in Husaybah al-Sharqiya on Monday.
READ MORE: 'Naïve' British schoolgirls 'will die in Iraq or Syria' – ISIS commander
Also on Monday, Iraq's defense ministry reportedly announced that "the so-called ISIS war minister" was killed in an airstrike by the army's aviation force, Iraqi News reported.
It's not the first time IS has revealed a sniper weapon. In December, the extremist group showed off a 10-foot rifle capable of firing 23mm caliber bullets – three times the size of standard rifle ammunition. Photos at the time showed it being supported by two tripods.
As the extremist group aims to form a 'caliphate' in the Middle East, it continues to lure fighters with bonuses and promises of a great life.
On Wednesday, reports emerged that IS is promising militants a free honeymoon, cash to start a family, and a housing bonus.
READ MORE: ISIS kills 400, mostly women & children, in Palmyra – Syrian state TV
The group has also published apropaganda magazinein Russian, as it aims to recruit foreign fighters from all over the world.
A 'tourist guide' released earlier this month compares the self-proclaimed caliphate to a "plush holiday resort." It promises great weather, quality education, and diverse surroundings.
But as the group continues to boast about its "benefits," it tends to ignore the atrocities it commits on a daily basis.
One of its many crimes was reported earlier this week, when the UN's special representative on sexual violence in conflict, Zainab Bangura, said the group is committing sex crimes against girls.
"They are institutionalizing sexual violence...the brutalization of women and girls is central to their ideology," she said, as quoted by the Independent.