Robot given 'animal instincts' recovers from damage in just 40 sec (VIDEO)
Published time: 28 May, 2015 18:10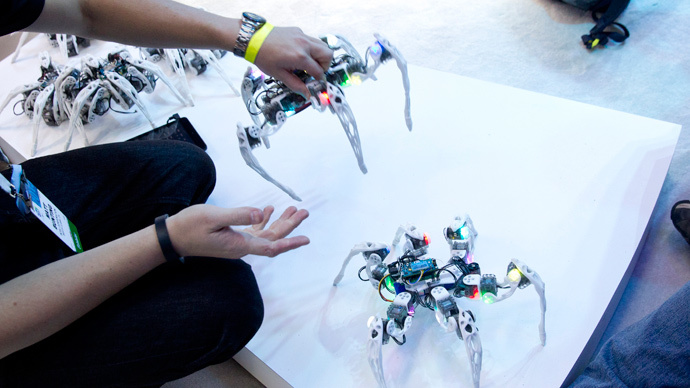 French scientists have endowed their six-legged robot with computerized "instincts." Once losing a foot, the machine is able to rapidly choose from over 13,000 walking patterns to compensate for the loss.
Scientists say the quick self-recovery algorithm they developed for the six-legged robot can be used with a variety of other machines – ranging from self-driving cars to those involved in health care or search and rescue operations. They have disclosed the details in the journal Nature on Wednesday.
"We want to have robots that can be useful for a long period of time, without humans to perform maintenance," said leading author Jean-Baptiste Mouret, an artificial-intelligence researcher at France's national computer science agency INRIA in Villers-lès-Nancy.
To back up their breakthrough, the team has published a video of the robot, suffering various injuries. For instance, it took the machine less than a minute to change its moving strategy to hopping and to stick to its original route.
In 2006, US roboticists built a hexapod robot that managed to diagnose its own injuries as well as to calculate new patterns that let it resume its operation. However, according to its creator, Josh Bongard, the robot was too slow at recovering.
"Time is of the essence," said Bongard. "If a car starts to skid off the road, it needs to find a way to recover very quickly."
READ MORE: Robot revolution by 2020? Japan launches pro-robot campaign

However, the French six-legged robot is much faster due to a simpler "shortcut" strategy, according to Mouret. A defect could be detected by an on-board camera. Afterwards, without diagnostics, the robot examines various motion patterns, calculated in advance with the help of computer model of the robot, to continue performance.
It took the French scientists just two weeks to finish computer modeling of various walking patterns. In the end, they constitute a library of over 13,000 walking patterns.
Now, the hexapod needs less than a minute to start walking again with the help of information the scientists compared to knowledge stored in an animal's instinct. The intelligent trial-and-error algorithm also works in situations when there is no failure, but the environmental conditions are hard.
READ MORE: One step closer to artificial intelligence: Scientists create cells replicating human brain processes

The algorithm is adaptable to a variety of robotic designs. The scientists have applied the model on a robotic arm, and it worked. "Virtually any robot would benefit from this," said Mouret.
According to Bongard, the work is "very exciting," yet one should keep in mind that the more complex a machine gets, the larger the scale of its behaviors become. So, the method of creating a library of patterns should be scaled up to more intricate robots.