Soldier opens fire on comrades at Tunisian military base, multiple casualties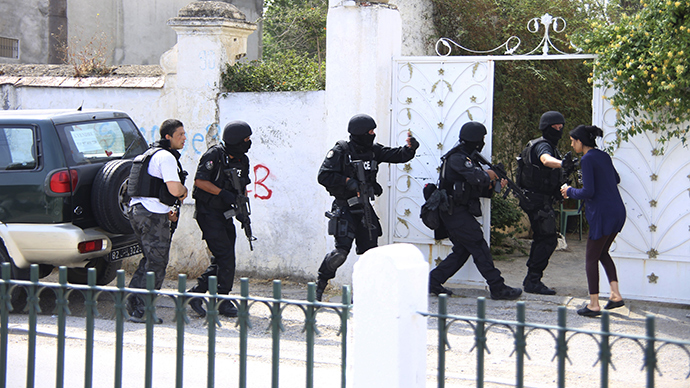 A Tunisian soldier has opened fire on his colleagues at a military base in Tunis, killing seven soldiers and injuring 10 more before killing himself, authorities said, adding that outside involvement is not suspected. An army colonel is among the victims.
The incident happened at the Bouchoucha barracks in the Tunisian capital, officials say, adding that the shooter had been suffering from "family problems."
Two military helicopters were hovering overhead as officers were searching a nearby mosque and cars between the base and Bardo National Museum where March shootings took place. A nearby school in the capital was evacuated.
#Tunisia: Carporal shots 8 camrades before being killed at #Bouchoucha barracks in #Tunis - HQ of antiterror forces. pic.twitter.com/7u7ANO6wgf

— José Miguel Sardo (@jmsardo) May 25, 2015
Tunisian forces have been on high alert since the deadly shootings at the Bardo Museum in the Tunisian capital in March. A total of 23 people were killed, including 18 foreign tourists, five Tunisians and two gunmen, while 50 more were injured. Jihadists affiliated with Islamic State (formerly known as ISIS or ISIL) claimed responsibility for the deadly attack.
#UPDATE: #Tunisia: Soldier who opened fire at #Tunisia base killed colonel before being shot dead & injured 8. pic.twitter.com/yTRyYB9FlG

— Amichai Stein (@AmichaiStein1) May 25, 2015
READ MORE: Manhunt for third suspect in Tunisia as CCTV footage of Bardo museum attack emerges
Security forces arrested nine people in connection with the attack, according to a statement issued by the president's office. Five of the arrested were directly connected to the attack, while four others were from a supporting terrorist cell, it added.