Female peace activists to march from North to South Korea amid controversy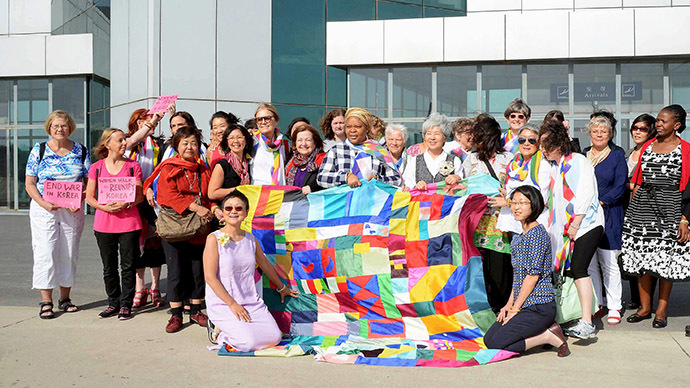 Feminist icon Gloria Steinem and two Nobel Peace Prize laureates have joined a group of 30 women activists planning to cross the demilitarized zone (DMZ) between North and South Koreas in a symbolic step for peace.
Steinem, 81, agreed to join at the invitation of Korean-American peace activist Christine Ahn. Nobel Peace Prize laureates Mairead Maguire and Leymah Gbowee have also joined the group. Maguire received her prize in 1976 as one of the founders of Women for Peace in Northern Ireland. Gbowee was recognized in 2011 for helping end the second Liberian civil war.
Women Cross DMZ announced that the historic crossing would take place on May 24, celebrated by the activists as International Women's Day for Peace and Disarmament. Initially, the activists planned to cross the boundary at Panmunjom, where the 1953 armistice was signed. Due to South Korean opposition, the crossing was moved to Kaesong.
3k + North Korean women joining us now for first part of walk before tomorrow's DMZ crossing #womencrossdmz2015pic.twitter.com/BHKpXP5YnI

— Coleen Baik (@colbay) May 22, 2015
"We have accomplished our first goal of meeting woman-to-woman in order to break through barriers to make human connections," said Steinem. "We achieved what we set out to do, which is to engage in citizen diplomacy."
"We bought one way tickets for Pyongyang not even knowing whether we would need to fly back to Beijing," said Gbowee. "Not only have we received the blessing for our historic crossing, we've gotten both Korean governments to communicate. That is a success."
"We'll be taking the road that both governments are in agreement with," added Maguire. "We celebrate that."
READ MORE: Mini-me missiles? N Korea claims it has made miniaturized nuclear warheads
According to the organizer, the plan is to start the crossing in the company of North Korean women at the Reunification Monument in Pyongyang, cross at Kaesong, hold a peace ceremony at Panmunjom, and then return to Kaesong to cross the demilitarized zone, known as the DMZ.
They expect to be greeted by hundreds of South Korean women leaders and conclude the symbolic crossing with a ceremony at Imjingak Park, in the nearby city of Paju. There, the organizers say, they will read a joint declaration drafted with the women of both Koreas, affirming their "commitment to support the desires of the Korean people and all people of conscience around the world to work towards the peaceful reconciliation and reunification of the Korean peninsula."
Several male human rights activists in the US have condemned the initiative, however. Shin Dong-hyuk, a North Korean defector whose story served as the basis for a 2012 best-seller called 'Escape From Camp 14,' called the activists "confused or distracted."
"For those who can go to that evil [North Korean leader Kim Jong-un] and smile to his face speaking of 'peace, peace...' They apparently aren't [sic] thinking about the abused and oppressed people of the Country whose women are trafficked and sold into China," Shin wrote on his Facebook page.
"How can they so easily find the ability to be comfortable with smiles on their faces to this dictator when so many are suffering at his hands."
Photos of @medeabenjamin and @MsJodieEvans in North Korea for #WomenXDMZ2015 peace delegation! pic.twitter.com/nNdu6mkzXK

— CODEPINK (@codepink) May 22, 2015
In a Washington Post editorial on April 26, associate dean of the Simon Wiesenthal Center, Abraham Cooper, and executive director of the Committee for Human Rights in North Korea, Greg Scarlatoiu, called the initiative "outrageous and dangerous."
"We desperately need the voices of feminists protesting the murder, torture and exploitation of North Korean women by their own government," Cooper and Scarlatoiu wrote. "But any sanctioning of a peace march by North Korea can be nothing but human rights theater intended to cover up its death camps and crimes against humanity."
Fought from June 1950 to July 1953, the Korean War was frozen by an armistice between the US-led United Nations Command (UNC) on one side, and North Korean and Chinese forces on the other. As the conflict has never officially ended, a state of war still technically exists between the North and South Koreas. The DMZ along the armistice line is the world's most heavily fortified frontier.
You can share this story on social media: