Chance to bridge European divide missed at Eastern Partnership summit – Moscow
Published time: 22 May, 2015 23:36
Edited time: 22 May, 2015 23:42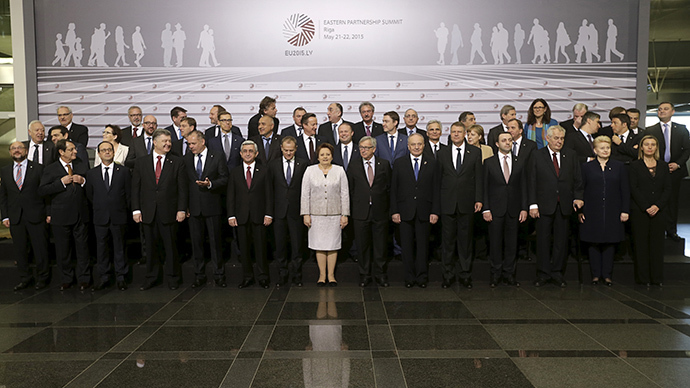 Some European countries have once again failed to mend the deepening split on the continent, Russia's Foreign Ministry said, commenting on the Riga summit results. Instead, a furthering of east-west divisions prevailed, Moscow believes.
READ MORE: 'Dictator is coming!' Hungarian PM heckled by European Commission chief (VIDEO)
"Under the pressure of instantaneous interests of separate participants, just another opportunity to make a step at overcoming the deepening split of the continent has been missed," the Russian Foreign Ministry said in an official statement on Friday.

Moscow was closely following the meetings of the bloc members and leaders of some of the eastern European states, who gathered in Latvia for a two-day summit this week. The EU leaders were examining potential membership prospects for such former Soviet republics as Armenia, Azerbaijan, Belarus, Georgia, Moldova, and Ukraine, as well as the development of its Eastern Partnership program.
"Belonging to the European civilization... must bring closer all Europeans from Lisbon to Vladivostok, and not to divide us by posing a false 'who are you with?' question," the Ministry said, adding that Moscow is always ready to work "constructively" with both the EU and other countries on the continent, building a single economic and humanitarian space "based on indivisible security for all."
The Eastern Partnership can become effective only if its eastern European participants are not forcefully faced with an "either or" choice, Russian Deputy Foreign Minister Sergey Ryabkov said on Friday. "Either you're with the West or with Russia is a false selection," the diplomat told journalists, as cited by RIA Novosti.

READ MORE: 'No promises' on EU membership for Eastern states at Riga summit

Despite some of the countries' big hopes for EU integration, the summit did not result in promises of any new immediate EU memberships, with the bloc not expressing readiness to welcome eastern non-member partners, including Ukraine.

Having announced that the membership issue wasn't a focus, the European Commission president Jean-Claude Juncker said in Riga: "They are not ready, we are not ready."

"Nobody promised that Eastern Partnership would be an automatic way to membership in the European Union," EU President Donald Tusk told journalists in Riga, offering no new prospects of future acceptance to the six former Soviet nations.
3: EU is a trusted #EaP partner for the long haul. #RigaSummit not about giant steps forward but concrete progress step-by-step

— Donald Tusk (@eucopresident) May 21, 2015
Saying that accepting new members could be a long process, having both sceptics and supporters, the EU President also highlighted the difference between the bloc members' promises and its aspiring non-members expectations.
READ MORE: 'Macedonia unrest - another episode of West-Russia geopolitical battle'
"Amongst some of the older members of the European Union we can detect high degree of expansion fatigue. They are in no mood to make any promises to unstable and bankrupt countries such as Ukraine, that even after a very long road they will be actually able to join the EU," Srdja Trifkovic, international affairs analyst at the Chronicles magazine, told RT.

"From the beginning the Eastern Partnership has been designed to satisfy the so-called European orientation of some of the post-Soviet republics, without really giving them much in return, either politically or financially," Trifkovic said.
READ MORE: 'Dating that will never end in marriage': Medvedev describes Ukraine's chances in EU