Holy sun! Solar halo in Mexico causes social media frenzy (PHOTOS, VIDEOS)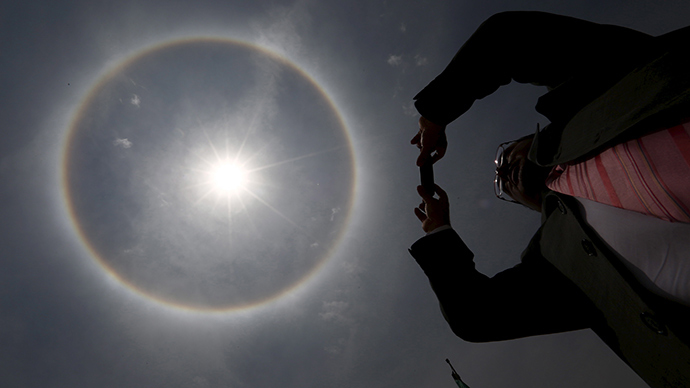 A perfectly round rainbow-like halo surrounded the sun in several Mexican cities, including the country's capital on Thursday. People spent the day with their heads looking up at the sky, trying to capture the phenomenon and share it on social media.
The ring around the sun could be seen in three Mexican cities, including the capital, Mexico City, local media reported. While the weather phenomenon is fairly common, people in the streets grabbed their cameras and smart phones to get a perfect shot of the optical illusion.
Photo of the day: a plane flies past a solar halo in Mexico City as rainbows form around the sun (Reuters) pic.twitter.com/DfeSxbruiM

— Ella Calnan (@ellacalnan) May 22, 2015
Due to peculiar atmospheric conditions the sun over mexico is displaying a halo usually only common in boreal regions pic.twitter.com/BAHp1Ah5DV

— Manuel Nieves Montes (@ManuelNMontes) May 21, 2015
READ MORE: Supermoon solar eclipse thrills sky gazers (PHOTOS, VIDEOS)
Joining the Mexico City sun halo picture frenzy pic.twitter.com/YQvGVk5ngC

— Laurent Thomet (@LThometAFP) May 21, 2015
"It's very common. The thing is that people never look up," the coordinator of the National Weather Service, Juan Manuel Caballero, told AFP. He added that he had received dozens of phone calls from scared people, who thought the phenomenon was "a bad omen."
Halo seen around the Sun in Mexico City. #HaloSolarpic.twitter.com/5VKnmepE1W

— Joel Franco (@OfficialJoelF) May 21, 2015
The sun halo in Mexico right now ☀️ pic.twitter.com/y1KHV7UHYG

— Drew Van Acker Crew (@DrewVAckerCrew) May 21, 2015
READ MORE: Spectacular NASA video shows giant plasma eruption on sun (VIDEO)
The perfect circular rainbow around the sun is actually formed by millions of tiny icy crystals in the upper atmosphere. The ice causes refraction, or the splitting of light, and the reflection of the light from the ice creates the optical illusion of the halo.
Sun in Mexico. #NoFilter #awesome #Halo

A photo posted by Lalo Ruiz (@laloruizs) on May 21, 2015 at 10:56am PDT
W/the Mexico sun halo in the news, Some beautiful sun halos 4 ur viewing pleasure! pic.twitter.com/c9OtvTSPNf

— Leah (@Hael381) May 22, 2015