​At least 5 refugees killed as Saudi Arabia shells intl aid office in Yemen
Published time: 21 May, 2015 09:32
Edited time: 21 May, 2015 14:36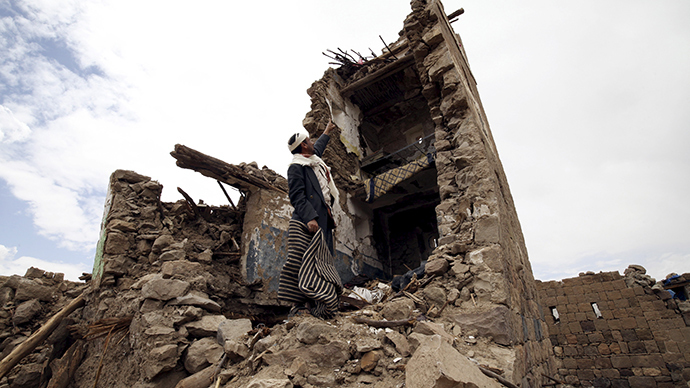 Saudi Arabian forces have shelled an international humanitarian aid office in northern Yemen, killing at least five Ethiopian refugees and injuring 10 others, Reuters reported, citing a local official.
The artillery fire hit the town of Maydee in Hajjah province, northwestern Yemen. The province has a population of more than 1.7 million people.
READ MORE: Saudis resume airstrikes on Yemen following five-day humanitarian ceasefire
According to UN humanitarian agency UNHCR, 1,849 people had been killed and 7,394 others injured in the Yemeni conflict as of May 15, since the Saudi-led air campaign began in late March.
Despite the first phase of the Saudi-led campaign, codenamed Decisive Storm, ending on April 21, the fighting continues to accelerate in Yemen. The second phase has been named operation Restoring Hope, which was said to be focused on diplomacy, but did not rule out new airstrikes.
READ MORE: Saudi Arabia moves 'strike force' to border with Yemen as truce nears – report

On Monday, the five-day humanitarian ceasefire in Yemen ended with the resumption of Saudi-led airstrikes against Houthi rebel positions, despite United Nations envoys' calls for an extension of the truce.
READ MORE: Yemen govt calls on UN to 'save' country with foreign boots on the ground – report

The devastation caused by the bombardment has aroused criticism from UN officials, who believe the bombing to be a breach of international law.
"The indiscriminate bombing of populated areas, with or without prior warning, is in contravention of international humanitarian law (IHL)," said Johannes van der Klaauw, the UN Humanitarian Coordinator for Yemen.
READ MORE: Iran will protect 'oppressed' in Yemen, Palestine and Bahrain – Khamenei