Decapitated: Brazilian journalist investigating child prostitution & corruption killed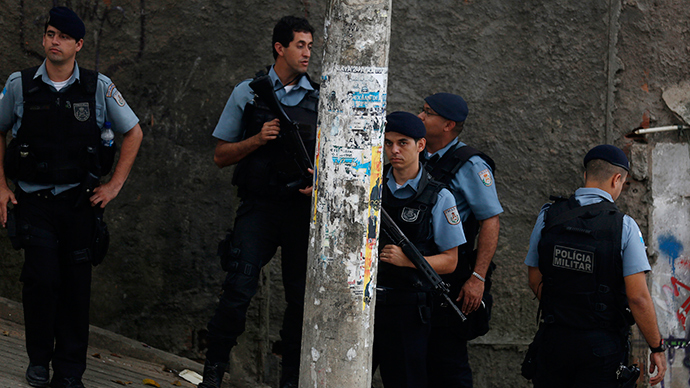 An investigative journalist has been found dead in the southeast of Brazil, police have reported. Evany Jose Metzker had been missing for days before he was discovered with his hands bound and signs that he had been tortured.
The 67-year-old was discovered near the town of Padre Paraiso, which is 840km north of Rio de Janeiro. The blogger had been decapitated, while his ID card and credit cards were found near his body.
"His hands were tied behind his back and his body showed signs of torture," a police press officer told AP. Fabricia Nunes, the police commissioner in charge of the investigation, was ruling nothing out, saying the killing could be a politically-motivated murder or a crime of passion.
Evany Jose Metzker, reporting child abuse & drugs,found dead in Brazil. 50th journalist killed in 2015! #PressFreedompic.twitter.com/HkxZcpUQTl

— Eva Stabell, NJ (@NJinternasjonal) May 20, 2015
Meanwhile, Metzker's widow Hilma Chaves Borges Silva was positive she knew the reason the murder was carried out.
"I have no doubt that my husband was killed because of his work. He would investigate everything and thoroughly. I am certain that he managed to open a wound," she told the local news outlet Estado de Minas.
"He was investigating all the dirt on politicians, child prostitution and cargo theft, in a very dangerous area. Certainly he found out something that someone wanted to keep hidden," the 51-year-old added, saying his body was found not far from where they lived.
Metzker had been missing since May 13, the date of his last entry into blog, called Coruja do Vale. The Minais Gerais Union of Professional Journalists said the deceased had been investigating drug trafficking and child prostitution for several months, while he had also been looking into a number of regional corruption cases in his blog. He had accused local officials of involvement.
"It was a barbaric crime that has shocked Minas Gerais and all of Brazil," Kerison Lopes, president of the union told AP. "He was decapitated, scalped and tortured."
"There is a climate of terror in the region that intimidates reporters from doing their job," he said, adding that Metzker often received death threats.
#Brazil - Investigative journalist found beheaded in Minas Gerais http://t.co/YF1Lb7Mie9

— RSF / RWB (@RSF_RWB) May 20, 2015
The deputy program director of Reports without Borders, Virginie Dangles condemned the killing and called for a thorough independent investigation.
"We condemn this barbaric murder and urge the authorities to concentrate on the possibility of a political motive," Dangles wrote on the organization's website.
"We also call for the investigation to be conducted in an independent, impartial and thorough manner so that this extremely violent crime does not go unpunished. Metzker is the second journalist to be killed this year in Brazil. The Brazilian authorities must take concrete measures to protect media personnel," she stated.
Meanwhile, Carlos Lauria, from the Committee to Protect Journalists said that 14 Brazilian journalists have been killed since 2011. He said this has been "in retaliation for their work, making Brazil a very dangerous country for journalists."
"Lethal violence against the Brazilian press is on the rise, impeding journalists from reporting critically on what is going on," he said, according to AP. "The level of violence (against journalists) in Brazil is unacceptably high."
You can share this story on social media: