Challenging beauty myth: Aussie Down syndrome teen inspires army of online fans
Published time: 20 May, 2015 09:46
Edited time: 22 May, 2015 06:37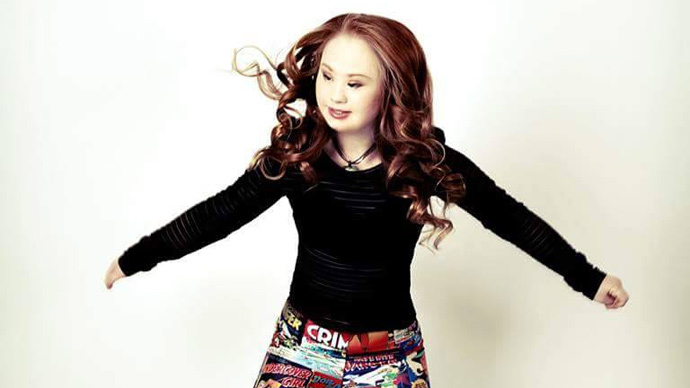 Maddy Stuart, a Brisbane girl with Down syndrome, has taken social media by storm, with thousands of fans worldwide praising her for her zeal to become a model and inspire other teens like herself to challenge stereotypes and notions of beauty.
Maddy, 18, wants to change the way the world views people with Down syndrome.

"So 18 months ago I decided to turn my weight around and to concentrate on my health," she wrote in a Facebook post last week, sharing 'before' and 'after' photos of herself. With the help of her mother she has lost 20kg. Fans from across the world say she's become a "fabulous role model for all young people."
I'm so happy and proud of that girl with down syndrome who became a model she's beautiful

— masta william (@maharrytitties) 20 мая 2015
Maddy loves swimming and dancing, as well as being photographed.
"She loves the attention when she is up on the stage, doing a play or competing in gymnastics or cheer, and I have always taken millions of photos of her so she loves the camera," her mum, Roseanne, told Daily Mail Australia.
madeline stuart is an australian teen with down syndrome who aspires to be a model to change all beauty standards pic.twitter.com/cmXDnHMqWY

— lil bunny (@juicybb69) 18 мая 2015
Maddy's school life in Australia wasn't exactly a bed of roses.

"Her doctors told me she would never achieve anything. When she was first at school, on the sports day some of the parents didn't want her to compete as they wanted their child's team to win," Roseanne said.
Having a yummy lunch and my first person came up to me and asked me if I was Madeline. She saw my page, how beautiful.

— Madelinesmodelling (@Madelinesmodel1) 17 мая 2015
It turned out Maddy has an army of fans on social media, however. Since creating her Facebook page in early May, Madeline has garnered 230,000 likes in less than two weeks, with articles about the unconventional aspiring model published in Italy, Sweden, Spain, Mexico, China, Ireland, Iceland, Argentina, UK and Turkey, just to name a few.

"You are a trailblazer, and you are awesome and beautiful and so brave. I can't wait to see you walk the runway," Katie Forester, a fan from Illinois, wrote.
18 year old Australian Down Syndrome model sets to change the world: 18 year old Australian, Madeline Stuart was…

— Fresh kid (@bizzyboneee) 20 мая 2015
"Absolutely stunning. And so much more 'real' than every other model. Way to break the mold and send a strong message about effort and goals," another fan from the US, Shelley Nicole Loudermilk, stated on Facebook.
"Your self-confidence is amazing. You need to speak to all girls your age whether they have Down syndrome or not about being proud of who you are and challenging conventions. I have students telling me they can't do something because they are a girl, have a learning disability, or some other excuse they come up with. Never let anything stand in your way. You are awesome," Delia Edling stated on Maddy's FB page.
Yo I love this. Madeline Stuart is 18 with Down syndrome. She started losing weight and became a beautiful model. pic.twitter.com/av10gmaeBR

— Glen Coco (@Kii_Danielle) 18 мая 2015
Last week Maddy caught up with the owner of the Living Dead label, which signs models of different body types. "Well next week will be my first modelling shoot, YIPPEE yes I am officially a MODEL," she shared with her fans on social media.

"Please celebrate this wonderful news my internet family to make sure everyone knows that a model rocking her extra chromosome is fully appreciated by society. This is our chance to change the world," Maddy added.
18 year old Madeline Stuart with down syndrome that's trying to be a model❤ has motived me so much to stop being lazy and lose this fat

— Lucy Jones (@Lucy_Jones10101) 17 мая 2015
She says there may be even a chance of a line of clothing designed specifically for her.

With Maddy's modeling career speeding up, her mother hopes everyone could see the glow that her daughter has inside. And if that's what real beauty actually is, then "most of the models in the world would have Down syndrome," her mother notes.